Capital Gazette shooting: suspect charged with 5 counts of murder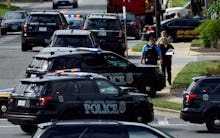 A 38-year-old man who reportedly carried a long-standing grudge against the Capital Gazette has been charged with five counts of murder in connection to Thursday's deadly mass shooting at the paper's Annapolis, Maryland, offices.
Jarrod Ramos of nearby Laurel, Maryland, has been accused of he shooting, which killed five people and "gravely injured" several others. He had a bail hearing scheduled for Friday morning.
Ramos had a documented grudge against reporters at Capital Gazette Communications, which owns several community newspapers in the area, ever since the Capital had reported on a criminal harassment case filed against him in 2011. Eventually, Ramos filed a defamation lawsuit against a columnist and the company's editor and publisher; the judge dismissed the case, saying at the time, it "fails to come close" to alleging defamation.The ruling was later upheld in a state appeals court.
But even after the legal proceedings ended, a Twitter account bearing Ramos' name continued to make repeated threats of violence against the paper and its reporters, according to the Daily Beast.
"I'll enjoy seeing @capgaznews cease publication," he tweeted in 2015, "but it would be nicer to see [two Capital Gazette staffers] cease breathing."
Statements from law enforcement officials and tweets from the scene — including those from Phil Davis, a Capital reporter who was in the building during the shooting — showed that the shooter had blasted his way through the office's glass doors with a "long gun," and opened fire on the small newsroom, pausing to reload at least once.
In an interview with the Baltimore Sun, which owns the Capital Gazette, photographer Paul Gillespie said he had been wrapping up an assignment when he heard gunshots ring out in the newsroom and quickly scrambled under a desk for safety.
"I dove under that desk as fast as I could, and by the grace of God, he didn't look over there," Gillespie told the paper. "I was curled up, trying not to breathe, trying not to make a sound and he shot people all around me."
The victims have since been identified as Rebecca Smith, 34; John McNamara, 56; Rob Hiaasen, 59; Gerald Fischman, 61; and Wendi Winters, 65.
In a briefing, Anne Arundel County Police Department officials later said the gunman had also been armed with "smoke grenades" during the attack.
The police department said it evacuated 170 people from the building, which houses the newspaper's offices, in the wake of the deadly attack, and it had taken law enforcement officials about a minute to arrive on the scene after the first 911 call came in.
In a series of tweets, Davis later wrote that a "single shooter shot multiple people" inside the Gazette's office, "some of whom are dead."
"Gunman shot through the glass door to the office and opened fire on multiple employees. Can't say much more and don't want to declare anyone dead, but it's bad," he wrote.
"There is nothing more terrifying than hearing multiple people get shot while you're under your desk and then hear the gunman reload," he added.
Maryland Gov. Larry Hogan also addressed the shooting on Twitter, saying he was "absolutely devastated to learn of this tragedy in Annapolis."
Hogan added he was in contact with the Maryland State Police, and doubled down on law enforcement's urgings that the public avoid the area.
In an emotional interview with CNN on Thursday night, Capital Gazette staff writer Selene San Felice said the attack had left her world "shattered," and acknowledged that media coverage of the shooting would likely be fleeting, as it has been in the wake of each of the other 154 mass shootings in America in 2018.
"I'm going to need more than a couple days of news coverage and some thoughts and prayers, because it's our whole lives have been shattered," San Felice said. "And so thanks for your prayers, but I couldn't give a fuck about them if there's nothing else."
June 29, 2018 at 11:15 a.m.: This story has been updated.
Correction: June 28, 2018
A previous version of this story's headline misreported the Capital Gazette's location. It's in Annapolis, Maryland.