Inside MeMe's Diner, the New York restaurant that's become a gathering spot for queer people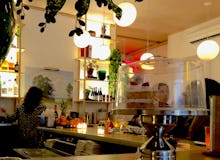 Historically, gay bars and nightclubs have offered a space for queer people to meet, drink and explore their sexual identities without fear of public scrutiny. The reliance on nightlife as a central meeting space, however, isn't without potential consequences. A 2014 study noted that the centrality of gay bars in queer social life has, in addition to the systemic oppression queer people face, potentially facilitated a culture in which 20% to 30% of queer people have substance use disorders, as compared to 9% of non-LGBT populations
Recently, there's been a larger call for sober spaces for queer people outside of bars, including restaurants and cafes. With the ascent of queer food culture and increasing visibility of LGBTQ chefs, queer-owned restaurants are receiving recognition as spaces for LGBTQ communities to come together without the necessity of alcohol.
MeMe's Diner, which opened in November in Prospect Heights, is one such alcohol-optional gathering space in New York. Co-owners Bill Clark and Libby Willis, who identify as queer, met while managing the Brooklyn-based Ovenly bakery and began hosting dinner parties for friends and family in their homes.
"We'd start planning a dinner party on a Tuesday morning and by that night, it would look like a wedding in [Clark's] backyard," Willis said. "We saw ourselves getting more and more elaborate: the table, the floral arrangements, huge menus."
After leaving Ovenly, the dinner parties soon became so involved that both Clark and Willis thought a restaurant that felt much like their parties — simple food in a cozy environment — could be a diversion from their day-to-day responsibilities.
"For a long time, I decorated weddings cakes in a basement by myself for hours and hours," Willis said. "Something was missing."
Clark handles much of the baking at MeMe's, including Vietnamese iced coffee cakes and rhubarb chess pies, as well as front-of-house duties; Willis is the chef. According to the restaurant's website, the menu combines "farmers-market produce with bodega standards" and offers an array of comfort food like patty melts, meatloaf, cereal and Frito migas, a soft scramble with Fritos, salsa verde and chipotle crema served out of a Fritos bag.
"We're not sourcing wild ingredients. Our pantry looks like any home cook's," Clark said. "We wanted people who aren't incredibly adventurous to feel like they could pick something off the menu and know what they're getting," Willis added.
During its hiring process, Clark and Willis lay out clear expectations for the waitstaff and the diner as a safe, inclusive space. Many of the servers at MeMe's Diner identify as LGBTQ and use gender-neutral pronouns when referring and speaking to customers. The restaurant hosts a monthly queer industry night with gay-themed cocktails specifically for LBGTQ patrons. To honor Pride Month, Clark and Willis donated to the Sylvia Rivera Law Project, a nonprofit that provides legal services to low-income transgender, intersex and gender nonconforming people.
In May, MeMe's Diner hosted Queer Soup Night, a monthly Brooklyn-based party that raises funds for community-based organizations.
"We try to hold events in places that are known LGBTQ safe spaces, and everyone knows and loves MeMe's," Liz Alpern, the founder of Queer Soup Night, said in an email. "It was a collaborative evening for celebrating queer food and queer justice work. Overall, the spirit of the party was deep community."
For Willis and Clark, a sense of community and family is closely tied to the diner. Willis is a fourth-generation restaurant owner and attributes much of MeMe's success to her upbringing.
"The best thing about opening this restaurant is that my parents can see what they taught me," Willis said. Clark, who said he also inherited his parents' work ethic, noted that "both of our families are incredibly involved."
Willis' grandfather, for example, painted many of the portraits in the restaurant; her brother constructed the beige banquette that encloses the dining space. The restaurant is also named after Clark's grandmother, who owned a restaurant and to whom Clark attributes his passion for hospitality.
A recent visit by some of the original Queer Eye for the Straight Guy cast was a highlight for Clark.
"Carson Kressley and Thom Filicia came in one day and tried to buy the art off the walls," Clark said. "It's always funny to look around the dining room when it's especially stacked with queers and think, 'How did all these queer people find us?'"
"Queer hospitality is nothing new," Clark said in an email. "We're just glad to see the current spotlight on the work people are doing and how the added visibility is helping to grow and strengthen the community."
And for both owners, one of the most rewarding parts of opening MeMe's Diner is ultimately its staff. "With this restaurant, we're able to give people jobs," Willis said. "And every time I see a person put out a plate of food they're proud of, it makes working in this industry just a little easier."