Hype Daily: Jon Stewart, 'Uncle Drew' and the next drag superstar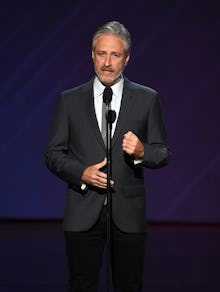 Welcome to Hype Daily, Mic's morning entertainment roundup. Here's everything you need to catch up on in the entertainment world, and what to look forward to today. Want to receive this as a daily email in your inbox? Subscribe here.
Good morning from Hype reporter Anna Swartz.
Jon Stewart dropped by The Late Show with a message about Trump
Former Daily Show host Jon Stewart (remember him?) swung by The Late Show with Stephen Colbert on Thursday night to deliver some thoughts about President Donald Trump.
"Hello, Donald. It's me, the guy you made sure everyone knew was Jewish on Twitter," Stewart said. "I know you're upset about all the criticism you've been taking with the fake news and the fake late-night show, it's just that we're all still having a hard time adjusting to your presidency as it goes into its 500th year." 
Stewart went on to talk about what he called the "gleeful cruelty and dick-ishness" of Trump's administration, specifically the policy of separating families at the U.S. border.
"Clearly, we're not going to be able to negotiate or shame you into decency. But there is one place where I draw the line," he said. "I won't allow you or your super fans to turn your cruelty into virtue ... The majority of the American people aren't assholes." Stewart, turning more serious, urged viewers not to stop calling out "cruelty and fear and divisiveness."
RuPaul's Drag Race crowns a queen
Spoiler alert for those of you who care but didn't watch Thursday night's big finale: The winner of season 10 of RuPaul's Drag Race is... Aquaria. That's right, another New York queen. The finale, which featured big choreographed lip syncs from the four finalists, was not without its drama.
At one point, contestant Asia O'Hara, hoping to pull off a big dramatic reveal, tried to release live butterflies during her performance. Unfortunately, it didn't quite go as planned. Instead of fluttering away gracefully, they, um, flopped to the ground where they lay in danger of being trampled by high heels. Oh well, you can't win 'em all, Asia!
Alison Brie opens up about Glow's #MeToo storyline
Alison Brie, star of the Netflix original series Glow, which debuted its second season Friday, spoke to the Daily Beast about the show's new storylines. One of the plot lines of this latest season sees her character invited to a powerful producer's home; she thinks they'll be talking business, only to have him try to turn it sexual. Brie told the Daily Beast the episode was written before the myriad of allegations came out about Harvey Weinstein — but that the story was the natural produce of a female writer's room.
"These episodes were written because we have a writers' room full of women who are speaking candidly about their experience in Hollywood," Brie said. "We're making a show about actresses set in the '80s, so of course we wanted to have an episode dealing with a sexual power play and the way women experience that in Hollywood. And now that these stories are coming out in the real world, I'm glad that we're a part of this movement in a real way and that we're on the right side of history in terms of what we're making and who we're making it with."
Uncle Drew, which is basically a full-length Pepsi commercial, hits theaters Friday
The new movie Uncle Drew, which opens Friday, might be the first film based not on a product, but on a commercial for a product. It stars NBA player Kyrie Irving as Uncle Drew, who is a character Irving first played in a Pepsi commercial several years ago. As far as I can tell, Drew's an old man who is good at basketball. In the film, Uncle Drew gets his old gang back together (played by other actual basketball players) to compete in a big tournament or something. Normal enough for a sports movie, but the really curious thing is how the film came about.
As the New York Times reported this week, the idea of a movie-length version of a commercial might just be the next logical step in product placement. Both Pepsi and Hollywood have something to gain from spinning out an ad into a film (new consumers and money, respectively). So what does this mean for the movie business? Will Frito-Lay be an Oscar contender? Let's see how Uncle Drew does first.
Put this on your radar: Woman Walks Ahead
Also premiering this weekend is the historical drama Woman Walks Ahead, which stars Jessica Chastain as real-life Native American rights activist Catherine Weldon. In the 19th century, Weldon became a close friend and secretary to Sitting Bull, the Lakota Sioux leader. Woman Walks Ahead is a fictionalized account of that story, starring Michael Greyeyes as Sitting Bull.
Reviews have been somewhat mixed. One reviewer said Chastain's character had some "white savior" vibes. The Times review called the film "ridiculously romanticized" but added that "the performances are so good" and the shots of the New Mexico landscape are powerfully evocative.