Toy Story Land: A first look at the rides, food and design details at Disney World's newest land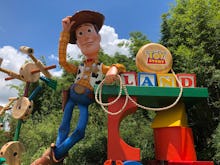 At the new Toy Story Land, which opens Saturday at Walt Disney World in Orlando, Florida, visitors don't simply play with toys. True to the movies, the land puts visitors in the mindset of a toy and encourages them to "play big."
The 11-acre land at Walt Disney World is dedicated to the popular Pixar franchise — a fourth Toy Story movie is slated for 2019. The land is located in Hollywood Studios, a park best known for its thrill rides like the Twilight Zone Tower of Terror and Rock 'n' Roller Coaster.
Sheriff Woody welcomes guests to Toy Story Land with a tip of his hat and, at nearly 20 feet tall, sets the tone for the park, offering visitors a hint of what to expect as they round the corner and enter Andy's backyard. Thanks to Disney magic, the oversized set design within the land gives parkgoers the feeling that they've shrunken to the size of one of Andy's green army men, about 2 inches high.
Andy's toys litter the backyard in some cleverly functional ways. Candy Land game pawns serve as the height requirement poles outside attractions. Fences are constructed from K'Nex pieces. Trash cans appear to be made out of Legos, and Tinkertoys support a long string of colorful lights that crisscross the pathways.
Toy Story Land has two brand-new attractions as well as a refreshed fan favorite. The standout is Slinky Dog Dash, which offers enough speed for thrill junkies but is just tame enough to keep everyone happy. With a 38-inch height requirement, it's great for little ones who aren't tall enough for the "real" coasters and adults who prefer not to twist upside down, thank you very much. The origin story is told through a set as visitors wait in line for the ride: While building a coaster from a kit, Andy added Slinky Dog to the track, wrapping his coil body around the coaster vehicles. Listen closely and you can hear the springs stretch as you twist around the curves. As you take the ride, you'll also get a peek into the construction site for Star Wars: Galaxy's Edge, which will open next fall.
The other new attraction in Toy Story Land is Alien Swirling Saucers, a souped-up take on a classic spinner ride. Riders sit in vehicles towed by little green aliens as they dance figure eights around the mystical claw, which hangs overhead. Look out for all the little nods to Pizza Planet, such as rockets shaped like slices of pepperoni pizza on the ride vehicles or a model of Saturn with craters shaped like mushrooms slices or bell pepper rings.
Toy Story Mania, a 4-D carnival-style game that first opened at Hollywood Studios in 2008, now has a brand-new entrance and updated line area for the opening of Toy Story Land. The attraction, where riders compete to shoot objects, has been a popular one — it was updated with a third track to increase capacity in 2016.
The star food attraction at Toy Story Land is Woody's Lunchbox. As its name suggests, the counter service restaurant is designed to look like a vintage lunchbox, tipped on its side and propped open by a thermos. There, visitors will find modern twists on some classic American favorites. Breakfast items include a s'mores french toast sandwich on brioche crusted in graham cracker crumbs and a breakfast bowl of potato barrels (tater tots) with scrambled eggs and smoked brisket country gravy.
Tater tots are also served at lunch in the style of totchos, a take on a Frito pie with a tater tot base. For something more substantial, there's the BBQ brisket melt topped with cheddar, Monterey Jack and pickles. Vegetarian options include a grilled three-cheese sandwich served on garlic-buttered French bread with a side of tomato-basil soup.
But whatever time of day you visit Woody's Lunchbox, don't miss the lunch box tarts. These upscale Pop-Tarts come in two versions: fruit and chocolate. The first features a raspberry-marmalade-stuffed pastry coated in strawberry fondant, while the second is filled with chocolate-hazelnut and topped with a generous coating of maple fondant and candied bacon.
Lines will be long at peak times, so take advantage of mobile ordering through the My Disney Experience app. Available at about two dozen counter service restaurants across Disney World, you can customize and pay for your meal via the app. Just tap "I'm here" when you arrive, and your order will be sent to the kitchen.
Disney is also helping guests pass the time while waiting with the new Play Disney Parks app, which launched earlier this week. The app lets you team up with friends and family to play games while in the lines of select rides at Disney World and Disneyland. In Toy Story Land, you can play Andy's Boardgame Blast! while waiting to ride Slinky Dog Dash or Playset Party in the queue for Toy Story Mania.
Toy Story Land is just the first phase in a multi-year overhaul to Disney's Hollywood Studios and the largest expansion since the park opened. The park's 30th anniversary in 2019 will bring the opening of Mickey and Minnie's Runaway Railway, the first-ever Mickey-themed attraction and, most notably, Star Wars: Galaxy's Edge, a 14-acre playground for fans of the galaxy far, far away. Disney continues to dream up ways to further immerse guests in its fantasy worlds — next to the land will be a highly anticipated Star Wars-themed hotel.