'When She Rises': How a Solange quote inspired these women to launch an all-women art exhibit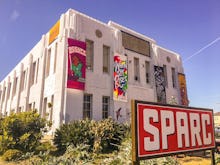 Los Angeles-based artist Lexx Valdez meditated on an empowering Solange Knowles quote as she and her co-curator Erin Yoshi planned When She Rises, a 10-week social- and ecology justice-themed exhibit to feature the work of 100 women artists from around the world.
The installation runs July 7 to Sept. 15 at SPARC, the Social and Public Art Resource Center, a women-founded community art institution in Venice, California.
"I keep going back to the Solange quote where she talks about building our own institutions and creating our own communities and that's really been sitting on my heart," Valdez said in a phone interview.
"Create your own committees, build your own institutions, give your friends awards, award yourself and be the gold you wanna hold my G's," Solange tweeted in February 2017. (The posts have since been deleted). It was the singer's answer to the Recording Academy's cultural bias issue that black artists, like Frank Ocean, were speaking out against.
Valdez and Yoshi are upholding this "do-it-yourself" approach to carry out their goals for the When She Rises exhibition, which include: to create a safe space for multiple generations of women, especially women of color, to collaborate; to diminish the culture of toxic competitiveness; and to raise awareness of pay inequity between women and men artists.
"Very often, women are pitted against each other," Yoshi said in a phone interview, "because when there's only a few slots available for women to exhibit it can get competitive, and we want to throw that model out the door and bring in the model of collaboration."
Valdez and Yoshi officially launched the When She Rises movement in March by displaying banners from outside the SPARC building. The signs had empowering feminist messages, one reading, "The war on women is a war on everyone."
They continue their work on Saturday by kicking off their 10-week women-centered event called the Ladies Love Project Pop-Up Shop that's curated by New York City based graffiti and street artist TOOFLY. The opening festivities will feature an all-women lineup of DJs and performers, as well as a market for independent artists and fashion designers to sell their work.
For the remaining weeks, When She Rises programming will include a workshop on public relations and marketing tips to help artists amplify their work, a historical tour of SPARC and a talk for participating artists and entrepreneurs. Yoshi and Valdez are also proud to present a range of women of color artists whose work will speak to social injustices and cultural experiences.
For instance, rising artists like Filipino street artist and muralist Cece Carpio is painting rich-toned and bright portraits of women leaders from her native tribe in the Philippines. There is also Favianna Rodriguez, an Afro-Peruvian Oakland-based artist whose multicolored illustrations challenge global politics and migration, as well as celebrates sex positivity.
There are also seasoned artists like Chicana muralist and activist Judith F. Baca, who is one of the founders of SPARC. Baca conceptualized and led the installation of the "Great Wall of Los Angeles" in San Fernando Valley, a half-mile length mural. The project promoted interracial unity and was painted by over 400 people over five summers.
Another important When She Rises contribution will come from Ofelia Esparza, a master of Day of the Dead altar making, a Mexican folk tradition in which households honor dead family members with an altar decorated with photos, sugar skulls, flowers and food. Esparza, who was honored in June as a 2018 National Endowment for the Arts national heritage fellow and was a consultant for the Oscar-winning animated Disney film Coco, will be exhibiting an altar at When She Rises.
"We want the younger women that are participating to see these older women and gather knowledge," Valdez said. "They should all be able to share our advice that can help [younger artists] rise in their careers."
Combatting ageism in the art space was also important when Yoshi and Valdez were planning the artist lineup.
"I think a lot of times in all industries, women reach a certain age and then they're perceived as having one foot in the grave," Valdez said. "There are great woman doing great work who have flown under the radar who maybe haven't received the shine either because it's a male-dominated industry."
The art world has work to do to achieve gender parity. In New York City for example, an international art hub, male artists were 70% of those represented at 45 popular commercial art galleries between 2016 and 2017, according to a database by CUNY Guttman College students. In 2013, California-based artist Micol Hebron also brought light to the lack of representation of women in galleries by launching the "(en)Gendered (in)Equity: Gallery Tally Project." Volunteer artists have contributed visualized posters to the project showing the amount of women artists versus men artists represented at art galleries in Los Angeles and beyond, according to ArtNews.com. For example, 27% of artists showcasing art at Thinkspace in Los Angeles were female as of 2017, according to poster contributor Holly Boruck.
Yoshi explained that when women artists are constantly denied the same opportunities as men to showcase, this can have a long-term negative impact on their career.
"When opportunities aren't given to women over the years, then they don't have the same experience," Yoshi said. "And they can't compete on future projects or future gigs because they're measured against people who have had access and have had opportunities."
Yoshi and Valdez are also using When She Rises as a platform to call attention to the gender pay gap in the art industry. The most recent National Endowment for the Arts employment and wages report shows that full-time women artists — which include fine artists, photographers, dancers and choreographers — made up 51% percent of all full-time artists between 2005 and 2009. Yet full-time women artists made 81 cents for every $1 male artists made.
Since When She Rises is pushing for an art world that's more inclusive to women and that pays them better, it was a no-brainer for the duo to house the exhibit at SPARC, which puts social change and the voices of the underrepresented first.
"When talking to Erin about building out When She Rises, we really felt like SPARC has done that," Valdez said. "SPARC has built [its own] institution here."
SPARC was founded by three women in 1976: Baca, a Chicana muralist and UCLA professor, filmmaker and director Donna Deitch and artist and teacher Christina Schlesinger. According to the mission on the site, the space was a former women's prison and was transformed to showcase art made by those who aren't normally given a seat at the table: women, people of color, those in poverty, youth and incarcerated people.
Yoshi and Valdez want to build on the foundation that SPARC and other independent institutions have created. When She Rises is their way of assuring these spaces are sustained for marginalized communities, and it aims to make sure women artists know their work also deserves to be put on a pedestal.
"I really don't believe diversity needs to be a charity case all the time," Valdez said. "We don't know what kind of audience is going to show up to this event, but ultimately we want them to be reminded that women have power. We hold power. We share power."