Trump says journalists should be "free from fear of being violently attacked while doing their job"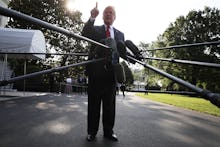 President Donald Trump — who describes the press as the "enemy of the American people," routinely calls unflattering reports "fake news" and sometimes stirs outrage against individual reporters — said in the wake of the shooting at a Maryland newspaper that journalists should not have to fear being "violently attacked while doing their job."
"This attack shocked the conscious of our nation and filled our hearts with grief," Trump told reporters Friday. "Journalists, like all Americans, should be free from the fear of being violently attacked while doing their job."
A gunman with an apparent grievance against the paper opened fire in the offices of the Capital Gazette in Annapolis, Maryland, Thursday, killing five employees and "gravely" wounding several others.
Trump tweeted Thursday that his "thoughts and prayers" were with the victims, but refused to answer questions from reporters about the mass shooting and his anti-media rhetoric.
Trump has been strident in his frequently personal attacks on the media, describing reports and outlets he doesn't like as "fake" and remarking multiple times that the press is the "enemy of the American people."
Some of his digs at the media have had threatening undertones, as when he tweeted a bizarre video of himself bodyslamming a person with the CNN logo superimposed over their face.
While his attacks against the media often focus on the press as a whole or particular publications, he has also made a habit of going after individual reporters — including NBC News' Katy Tur, who said she received death threats after repeatedly being singled out by Trump on the campaign trail.
His incessant attacks on the press have seemingly resonated with at least some of his supporters, who have expressed strong distrust of journalists, antagonized reporters and in some cases seemingly called for violence against members of the media — as was the case with the man who was photographed at a Minnesota Trump rally wearing a tee-shirt that seemingly advocated lynching journalists.
Rope. Tree. Journalist," the shirt read. "SOME ASSEMBLY REQUIRED."
In the wake of the deadly shooting in Maryland Thursday, many in the media and beyond suggested there was a link between Trump's aggressive rhetoric against journalists and the massacre. Trump ignored reporters' shouted questions about the incident outside the White House in the aftermath of the shooting — including one that referenced his infamous "enemy of the people" comments.
But Sarah Huckabee Sanders, the White House press secretary who has been engaged in her own battle with the media, tweeted afterward that the shooting had been an "evil act of senseless violence" and that a "violent attack on innocent journalists during their job is an attack on every American."
"Our prayers are with the victims and their friends and families," Sanders wrote.