Kirsten Gillibrand becomes first senator to call for abolishing ICE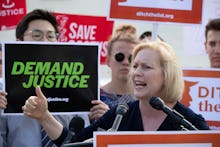 On Friday Sen. Kirsten Gillibrand (D-N.Y.) became the first U.S. senator to join the growing ranks of progressives who want to abolish Immigration and Customs Enforcement.
"The mistreatment of immigrant children and families is one of the most urgent crises we face," Gillibrand said in a statement announcing the new position. "ICE has lost trust. It stokes fear. It has to go."
In addition to Gillibrand, New York City Mayor Bill de Blasio also came out for abolishing ICE on Friday, telling WNYC's Brian Lehrer that "ICE's time has come and gone."
The movement to abolish ICE has grown rapidly over the past month thanks to powerful activism from immigrant rights groups in the wake of Trump's family separation policy, which has drawn sharp rebuke from both sides of the aisle.
On Monday, Wisconsin Democratic Rep. Mark Pocan of Wisconsin introduced the first-ever bill to abolish the immigration enforcement agency.
And on Tuesday the high profile election of insurgent socialist candidate Alexandria Ocasio-Cortez added fuel to the movement, thanks to her outspoken support for the policy.
Gillibrand's decision to become the first senator to take the leap is in keeping with a number of other bold progressive stances that the senator has recently taken.
Many have speculated that Gillibrand has presidential ambitions for 2020, and believe that she is looking to demonstrate her progressive bona fides ahead of that year's presidential primary.