Meet Ayanna Pressley, the congressional candidate poised to become the next Ocasio-Cortez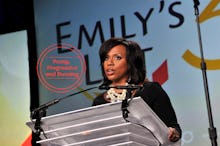 Ayanna Pressley is everything the Democratic Party is looking for in a 2018 candidate. She's an experienced progressive politician, the first woman of color ever elected to the Boston City Council and a candidate with a proven record of attracting large numbers of voters.
The only problem? Her district already has a Democratic congressman seeking re-election.
"I embarked upon this anticipating that it would be lonely and bruising and uphill," Pressley said in an interview with Mic. "This is a disruptive candidacy. It strikes at conventional narratives about who has a right to run, who can win and when someone should run."
Pressley is running to be the Democratic nominee in Massachusetts's 7th Congressional District race, which has been widely discussed as the next potential insurgent Democratic upset after Alexandria Ocasio-Cortez bested longtime incumbent — and chair of the House Democratic Caucus — Joe Crowley in New York's 14th Congressional District in June.
Ocasio-Cortez has herself has been vocal in her support for Pressley, imploring Massachusetts voters to "vote her in next."
Massachusetts' 7th District is currently represented by Democrat Michael Capuano, who has represented that part of the Boston area since 1999 — the same year Crowley was first elected to office.
In many ways, Pressley's story is similar to that of Ocasio-Cortez. She's a charismatic, relatively young (Pressley is 44; Ocasio-Cortez is 28), progressive woman of color living in a minority-majority district who is ready to be a fresh face for the Democratic Party. But also like Ocasio-Cortez, Pressley is going head-to-head with an entrenched member of the party establishment who isn't ready to watch the new guard take his place.
In May, the political action committee for the Congressional Black Caucus endorsed Capuano, a white man, over Pressley, with Rep. Gregory Meeks (D-N.Y.) calling him a "strong, committed partner."
But Pressley has been undeterred by the lack of support from Washington lawmakers, saying she knew her opponent would receive more endorsements, fundraise more and outspend her.
"This is between me and the people, and that's who I'm working to make my case to every day," Pressley said. "For those that might consider this candidacy to be some sort of traitorous act, I believe I'm operating from the greatest of loyalty to my party, because I'm meeting head-on the charge that we were given coming out of 2016."
For Pressley, civil service has been a lifelong calling.
As a young child growing up in Chicago, Pressley recalled being inspired by figures like the late Texas congresswoman and civil rights leader Barbara Jordan and Shirley Chisholm, the first black woman ever elected to Congress.
"Early on, I was this kid sort of wearing church suits to school, sometimes with fake pearls, emulating my heroes [Jordan and Chisholm]," Pressley said. "I felt very inspired and mentored by their examples."
Pressley's first experience volunteering for a political campaign was in the fifth grade, when, at just 10 years old, she worked as a campaign volunteer to help elect Harold Washington as the first black mayor of Chicago.
Like Ocasio-Cortez, who started her political journey interning for the late Sen. Ted Kennedy, Pressley got her start in the world of congressional politics working for a member of the same political dynasty. After moving to Boston, Pressley interned for former Rep. Joseph P. Kennedy II and was eventually hired as a staffer. At the time, Kennedy II represented the same area of Boston Pressley is hoping to represent.
"That was an incredible education in public service and the inner workings of government and the power of advocacy," Pressley said. "I was like 23, 24 years old, and with the weight of a congressional office behind me, [I] could pick up the phone and help stop someone's home from being foreclosed on. I could connect them to a food pantry. I could intervene with the utility company and say, 'This person is experiencing medical or financial hardship, you can't turn their lights off.'"
Then 36, Pressley won election to the Boston City Council in 2009, becoming the city's first-ever woman of color elected to the council. She used her seat to advocate on some of the most important priorities for progressives in Boston and across the nation.
"I have been leading already in the district and on the issues that have become only further entrenched under this administration," Pressley said. "[Issues] of economic inequality, the wealth and wage gap, structural racism, gun violence. These are the issues that I've dedicated my life to, not just my council tenure, and I believe that we can get at them through legislative intervention, through boldness and through intentional aptitude."
Pressley is running for Congress on a bold progressive agenda that refuses to take money from corporate PACs, supports "Medicare for all" and calls for the abolition of Immigration and Customs enforcement.
Capuano, for his part, has endorsed some of the same priorities, including "Medicare for all" and a $15-per-hour minimum wage.
Pressley, however, said simply supporting progressive policies isn't enough.
"It's not just about how I'll vote or what policies I'll champion that are already out there, it's also about where I can usher in and what I can introduce," Pressley said. "Voting the right way is simply not enough in the darkest and bluest of the states. And this being such a progressive seat, the seat previously held by [John F. Kennedy], we have an opportunity and an obligation to be bold and to innovate and to lead and to legislate."
When asked for an example of how she planned to advance a progressive agenda in Congress beyond voting for progressive legislation, Pressley explained how she would go beyond what her opponent has already done.
"On the issue of gun control reform, I'm sure that my opponent and I would vote the same way on that issue," Pressley said. "But after I vote for common-sense gun control reform, I then am going to actively legislate for trauma-sensitive and informed schools, for equitable investment in school nurses and social workers and guidance counselors, and actively work against the militarization of our schools, which only contributes to the school-to-prison pipeline."
For Pressley, issues of youth trauma and violence are also deeply personal. A survivor of both childhood sexual abuse and campus sexual assault, Pressley operates from the perspective that "hurt people hurt people" and believes lawmakers can make a lasting impact in preventing those kinds of traumas by addressing systemic oppression and building support for the most vulnerable populations.
Such thinking puts her in line with other progressives like Ocasio-Cortez, who sees fixing America's broken institutions as a key part of any leftist policy agenda.
Should Pressley manage to channel that message in her district the way Ocasio-Cortez did in hers, she could be poised to pull off yet another Democratic upset. With just over two months until Massachusetts' primary on Sept. 4, Pressley said the outcome of her race depends on her ability to get her message to the voters.
"Ultimately, my victory hinges on my making my case to voters and meeting them where they are at, and rewriting the math of who is a primary voter," Pressley said. "[Ocasio-Cortez's] campaign and her victory is an inspiring one, but I am so very acutely aware that I am an underdog and this is an uphill battle. I am treating it as such, so I'm doing everything to build a broad and diverse coalition and to run a hard grassroots campaign so that on Sept. 5, I know that I did everything I could."