Mic Daily: The case for "court packing," Kirsten Gillibrand calls for abolishing ICE and more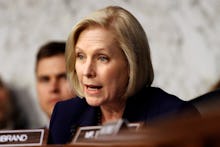 Welcome to Mic Daily: Mic's short, smart email newsletter that cuts through the noise and lands in your inbox every weekday. We carefully curate each edition to send you a cross section of our most impactful, vital, touching stories of the day.
Sen. Kirsten Gillibrand (D-N.Y.) on Friday became the first U.S. senator to join the growing ranks of progressives who want to abolish Immigration and Customs Enforcement.
"The mistreatment of immigrant children and families is one of the most urgent crises we face," Gillibrand said in a statement. "ICE has lost trust. It stokes fear. It has to go."
As the story often goes, 50 Cent has incensed the masses with his gross displays of immaturity and idiocy. The latest controversy stems from his reported public taunting of actor Terry Crews about the latter's sexual assault. In now-deleted posts on Instagram, 50 Cent mocked Crews for not responding in a violent manner.
Could President Donald Trump pull the United States out of the World Trade Organization? That's what he's been threatening to do in conversations with top advisers, Axios reported Friday.
Experts who study Washington's power dynamics have a message for Democrats looking to stop the Trump administration from abusing its power: When they go low, you go lower.
In the wake of Thursday's shooting at a Maryland newspaper, Trump — who describes the press as the "enemy of the American people," routinely calls unflattering reports "fake news" and sometimes stirs outrage against individual reporters — said journalists should not have to fear being "violently attacked while doing their job."