This Week in Trump-Russia News: Michael Flynn has more to say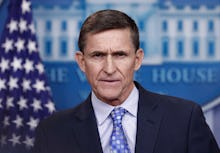 Michael Flynn has been cooperating with special counsel Robert Mueller since December, when he pleaded guilty to a charge of making false statements to the FBI about his contacts with Russia.
After more than six months, it turns out he might have more to say.
Here's what we know about the latest Flynn developments — and everything else that went down in the Russia saga this week.
Mueller isn't done with Flynn yet
Mueller's prosecutors on Friday told a judge Flynn is isn't ready to be sentenced and asked for 60 more days before a sentencing hearing.
"Due to the status of the special counsel's investigation, the parties do not believe that this matter is ready to be scheduled for a sentencing hearing at this time," read a joint status report signed both by Mueller and Flynn's attorneys.
The delay suggests Flynn still has information for Mueller — something that could be bad news for President Donald Trump and those in his inner circle.
Two others brought down by Mueller's Russia probe have been or are about to be sentenced.
Alex van der Zwaan, an associate of former deputy Trump campaign chairman Rick Gates, is the first person in the Russia investigation to serve time; he was sentenced in April to 30 days in prison and ordered to pay a $20,000 fine for lying to investigators.
The Dutch lawyer was deported back to the Netherlands in June after serving his sentence.
George Papadopoulos, the Trump campaign aide whose drunken comments to an Australian official in 2016 apparently triggered the Russia probe, is due to be sentenced in September.
Mueller has charged several others in the investigation, including former Trump campaign chairman Paul Manafort, who is in jail pending trial after the special counsel accused him of attempting to tamper with witnesses.
Republicans go after Wray and Rosenstein
Trump's Republican allies took aim at FBI Director Christopher Wray and Deputy Attorney General Rod Rosenstein during a hearing Thursday on Capitol Hill.
Republicans, who have used such hearings to try to help Trump undermine the Russia investigation, delivered harsh blows on federal law enforcement officials and called for the investigation to end.
"Whatever you got, finish it the hell up, because this country is being torn apart," Rep. Trey Gowdy (R-S.C.) said during the hearing.
But the Trump-appointed law enforcement officials fought back — perhaps most notably during a testy exchange between Rosenstein and Rep. Jim Jordan (R-Ohio), after the latter seemed to accuse the deputy attorney general of threatening House Intelligence Committee staffers.
"Did you threaten to subpoena their calls and emails?" Jordan asked.
"No, sir, and there's no way to subpoena phone calls," Rosenstein replied, eliciting audible laughter from onlookers.
Rosenstein has overseen the Russia probe since early 2017, when Attorney General Jeff Sessions recused himself over undisclosed Russia conflicts.
The White House cited Rosenstein as part of the rationale for Trump firing former FBI Director James Comey, but the New York Times reported Friday he was privately "shaken" and "overwhelmed" afterward and felt "used" by the administration.
Wray took over as FBI director after Comey's firing.
Trump jabs at probe ahead of Russia summit in July
Trump continued to bash the Russia probe this week, running through some of his greatest Twitter hits and suggesting Mueller has undisclosed conflicts of interest.
"A disgraceful situation!" Trump tweeted Thursday.
Trump also attempted — again — to cast doubt on the U.S. intelligence community's conclusion that Russia interfered in the 2016 presidential election.
"Russia continues to say they had nothing to do with Meddling in our Election!" Trump tweeted the same day.
The president's remarks come a little over two weeks before he is due to meet with Russian President Vladimir Putin in Helsinki, Finland.
According to the White House, the "two leaders will discuss relations between the United States and Russia and a range of national security issues."