Trump says he'll announce Supreme Court pick July 9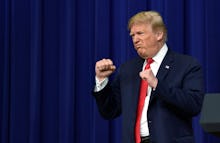 President Donald Trump on Saturday said he'll name his pick to replace Anthony Kennedy on the Supreme Court on July 9, "the first Monday after the July 4th Holiday."
It will be his second Supreme Court pick, one that will give him an opportunity to cement the conservative majority on the nation's high court for years to come.
Kennedy, 81, announced Wednesday he would retire from the bench July 31 after three decades on the Supreme Court.
Nominated by former President Ronald Reagan in 1987 and confirmed the following year, Kennedy has been considered a moderate who occasionally sided with the liberal bloc, including in 2015 when he wrote the majority opinion in favor of marriage equality in the landmark Obergefell v. Hodges case.
The person Trump picks for the seat is almost certainly going to be more conservative than Kennedy.
The president has said he will choose from a list of 25 names made public by the White House in November. He had released a version of the list during the 2016 campaign and seemingly used it to assuage Republican voters uneasy about his conservative bona fides.
Trump on Friday told reporters he'd narrowed his list down to five.
"I like them all," he said.
According to the BBC, Trump plans on interviewing "one or two" of the potential nominees at his Bedminster, New Jersey, golf club over the weekend.
It's not certain who has made the president's shortlist, but many outlets have reported that Judge Brett Kavanaugh, a former Kennedy clerk, is the frontrunner.
According to the Washington Post, the 53-year-old circuit judge has previously argued presidents "should not be distracted by civil lawsuits, criminal investigations or even questions from a prosecutor or defense attorney while in office" — a view that would likely be welcomed by Trump, who has warred against the ongoing investigation into his 2016 presidential campaign, along with the FBI probe into his longtime fixer, Michael Cohen.
Two women are also reportedly on Trump's shortlist, including Judge Amy Coney Barrett, who is considered another frontrunner for Kennedy's seat.
Thomas Hardiman, who was Trump's second choice to fill the late Antonin Scalia's seat in 2017, is also in the running. Trump passed over Hardiman in favor of Neil Gorsuch, who has proven to be reliably conservative in his tenure so far and has been a key vote in numerous controversial 5-4 decisions, including the decision to uphold the president's travel ban.
Other names on Trump's shortlist reportedly include former Kennedy clerk Raymond Kethledge; Amul Thapar, the preferred choice of Senate Majority Leader Mitch McConnell; and Sen. Mike Lee (R-Utah).
All of Trump's potential choices have been vetted by the conservative Federalist Society, he promised during the campaign, and all are relatively young.
"We have to pick one that's going to be there 40 years, 45 years," Trump said at a rally on Thursday.
The road to confirmation for Trump's pick is likely to be a contentious one, as Democrats are expected to push back.
Trump got his first Supreme Court pick after McConnell led a Republican blockade against Merrick Garland, former President Barack Obama's nominee to fill Scalia's seat.
Senate Minority Leader Chuck Schumer has said it would be "the absolute height of hypocrisy" for Republicans to confirm a justice in an election year, given their response to Garland's nomination.
But McConnell has insisted Kennedy's successor would be confirmed in the fall and demanded the "president's nominee be considered fairly and not subjected to personal attacks."