Trump defends ICE as thousands gather around US to protest his immigration policy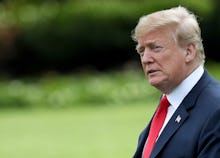 President Donald Trump on Saturday praised Immigrations and Customs Enforcement for "keeping us safe by eradicating the worst criminal elements," defending the controversial agency and making exaggerated claims about the Democrats' immigration platform.
"To the great and brave men and women of ICE, do not worry or lose your spirit," Trump tweeted. "The radical left Dems want you out. Next it will be all police. Zero chance, It will never happen!"
Trump's comments came as a growing number of Democrats call for ICE to be abolished — and as thousands gather around the country to protest his administration's hardline immigration policies.
Demonstrators are taking to the streets of Washington, D.C., and cities across the nation Saturday to call on Trump to "permanently end the separation of kids from their parents. End family internment camps. End the 'zero humanity' policy that created this crisis. And reunify the children with their parents," according to organizers.
"Donald Trump and his administration have cruelly separated thousands of children from their families," a statement on the event's website read. "Now they're jailing families — and they haven't yet reunified the families already brutally torn apart."
The president has faced renewed backlash in recent weeks over his administration's "zero tolerance" policy at the U.S. border, which has resulted in the separation of families.
He has falsely blamed Democrats for the family separations and claimed only Congress could solve the problem, though he later signed an executive order ending the family separation policy.
But the "zero tolerance" policy remains in place, which means families will be detained together — something critics say can have "significant adverse effects on a child's development and psychosocial well-being, which ultimately results in the loss of childhood."
"Indefinite family detention is simply unacceptable," Carolyn Miles, president and CEO of Save the Children, said in a statement. "Family detention centers have been consistently found unsuitable and injurious for children."
The executive order did not do anything to reunite families already separated by the president's policies. A federal judge on Tuesday ordered the administration to reunite the more than 2,000 children who have been separated from their parents.
Amid outrage over Trump's draconian immigration policies, some prominent Democratic figures have joined calls to abolish ICE, which was established in 2003.
"I don't think ICE today is working as intended," Sen. Kirsten Gillibrand (D-N.Y.) said Thursday on CNN. "I believe that it has become a deportation force and I think you should separate the criminal justice from the immigration issues."
Alexandria Ocasio-Cortez, the 28-year-old New York progressive who pulled off a stunning upset primary victory over high-ranking Rep. Joe Crowley (D-N.Y.) on Tuesday, has made ending ICE part of her platform.
New York City Mayor Bill de Blasio has echoed Ocasio-Cortez, saying the agency's time "has come and gone."
But Trump on Saturday said "it will never happen" and accused Democrats of wanting to abolish "all police" — something no known Democrat has called for.
He also claimed he has "watched ICE liberate towns from the grasp of MS-13 & clean out the toughest of situations," though it is unclear what he was referring to.
"They are great!" he tweeted.