Demonstrators nationwide call "shame" on Trump administration over immigration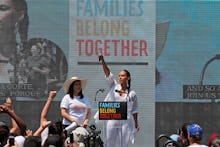 Thousands of demonstrators in Washington, D.C., and cities across America took to the streets Saturday to protest President Donald Trump's hardline immigration policies that resulted in the separation of migrant families at the U.S.-Mexico border.
Demanding the administration stop detaining families, end its "zero tolerance" immigration policy and reunite separated families, protesters carried signs reading "families belong together" and chanted "shame" at the president's draconian border measures.
Celebrities and politicians were among the demonstrators.
Sen. Elizabeth Warren (D-Mass.), a vocal critic of the Trump administration, joined a growing chorus of Democratic lawmakers Saturday to call for Immigrations and Customs Enforcement to be abolished or replaced. Many protesters carried signs demanding the elimination of ICE, which was established in 2003.
"This moment is a moral crisis for our country," Warren said at a demonstration in Boston. "We will not be silent."
But Trump on Saturday defended the controversial agency, tweeting it is "one of the smartest, toughest and most spirited law enforcement groups of men and women that I have ever seen."
"To the great and brave men and women of ICE, do not worry or lose your spirit," Trump tweeted. "You are doing a fantastic job of keeping us safe by eradicating the worst criminal elements."
"So brave!" he added.
Trump did not directly comment on the protests Saturday afternoon, but defended his "zero tolerance" policy in a tweet.
Trump — who campaigned as an immigration hardliner with a promise to build a wall along the U.S.-Mexico border — has faced renewed backlash in recent weeks over his administration's "zero tolerance" enforcement policy.
More than 2,000 children have been separated from their families as a result of the policy, according to the Department of Homeland Security.
The sounds of children crying after apparently being separated from their parents and images of kids being detained in large, fenced-in cages have touched off a firestorm of outrage that prompted Trump — who had falsely blamed Democrats for the policy — to issue an executive order allowing families to stay together.
But the "zero tolerance" policy remains intact, and the practice of detaining families together indefinitely has been blasted as inhumane.
"There's so much wrong with family detention," Philip E. Wolgin, managing director of immigration policy at the Center for American Progress, said in a recent phone interview with Mic. "There are workable, proven alternatives. There's no reason to detain families like this."
Further, Trump's executive order does not address reuniting families that have already been separated. The administration doesn't appear to have a plan to reunite children with their parents, as a federal judge ordered Tuesday.
During Saturday's protests, speakers argued passionately for humane immigration policies and read letters from individuals impacted by the Trump administration's draconian measures.
"This fight does not belong to one group of people, one color of people, one race of people, one gender," actress America Ferrera, whose parents are Honduran immigrants, said in a speech in Washington. "It belongs to all of us."
Trump is spending the weekend at his golf club in Bedminster, New Jersey, where about 200 protesters gathered near the golf club, according to the White House press pool, with signs criticizing him over immigration — including one that referenced the controversial jacket first lady Melania Trump wore en route to visiting a child detention center in Texas that read, "I really don't care, do U?"
"Our democracy is at stake," singer-songwriter Alicia Keys said in Washington before leading the crowd in a chant of, "We're not backing down."
"Our humanity is at stake."
June 30, 2018, 4:05 p.m. Eastern: This story has been updated.