Trump claims he didn't support immigration bill he tweeted support for three days ago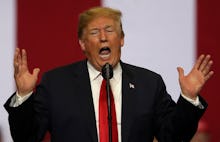 President Donald Trump on Saturday falsely claimed he did not support immigration bills put forth by House Republicans — despite urging them days earlier to pass it in an all-caps tweet.
"I never pushed the Republicans in the House to vote for the Immigration Bill, either GOODLATTE 1 or 2, because it could never have gotten enough Democrats as long as there is the 60 vote threshold," Trump tweeted. "I released many prior to the vote knowing we need more Republicans to win in Nov."
But Trump's tweet is plainly false.
On Wednesday, the day the Republican-backed immigration compromise bill came up for a vote in the House, Trump tweeted that "HOUSE REPUBLICANS SHOULD PASS THE STRONG BUT FAIR IMMIGRATION BILL, KNOWN AS GOODLATTE II, IN THEIR AFTERNOON VOTE TODAY, EVEN THOUGH THE DEMS WON'T LET IT PASS IN THE SENATE."
The bill failed hours after his endorsement.
Republicans have been scrambling to come up with a compromise bill between the hardline faction of their party and its more moderate wing. The bill, named after Rep. Bob Goodlatte (R-Va.), would have provided a path to citizenship for Deferred Action for Childhood Arrivals program recipients, but it would also have included hardline measures such as funding for Trump's long-promised border wall.
Trump had offered mixed messages on the matter, saying in an earlier tweet Republicans would be "wasting their time" to attempt to pass an immigration bill before the November midterms. But he flip-flopped ahead of the vote — and seems to be attempting to flip back now that it failed.
Trump's tweet came as thousands across the country protested his draconian immigration policies that have resulted in families being separated at the U.S.-Mexico border. He didn't directly comment on the protests, which also included a demonstration outside his New Jersey golf club, but defended his "zero tolerance" policy and attacked Democrats in another tweet Saturday.
"When people come into our Country illegally, we must IMMEDIATELY escort them back out without going through years of legal maneuvering," he wrote. "Our laws are the dumbest anywhere in the world."