Trump: Abortion "could very well end up with the states at some point"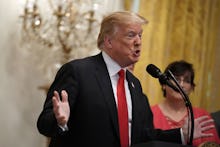 President Donald Trump on Sunday said he "probably" wouldn't ask potential Supreme Court appointees whether they would overturn landmark abortion case Roe v. Wade — though he also said he could envision a time when abortion is legislated by the states.
Trump spoke with Maria Bartiromo on Fox News' Sunday Morning Futures about his Supreme Court pick, who could play an enormously influential role in deciding such issues as LGBTQ and abortion rights. When asked whether he would screen candidates based on their legal views regarding Roe, Trump said he would not be asking potential nominees directly about their views on the case.
"They're all saying, 'Don't do that, you don't do that, you shouldn't do that,'" Trump said. "But I'm putting conservative people on, and I'm very proud of [Justice Neil] Gorsuch. He's been outstanding ... and I'm going to try to do something like that, but I don't think I'm going to be so specific and I'm actually told I shouldn't be."
Trump's comments came at the end of a consequential week for his presidency, as the announcement of Associate Justice Anthony Kennedy's retirement from the Supreme Court opened up a vacancy and gave Trump his second opportunity to nominate a justice to the nation's high court.
The president added that the question of abortion rights "could very well end up with the states at some point," rather than being protected under Roe v. Wade's ruling that the constitutional right to privacy extends to a woman's decision of whether or not to get an abortion. Trump's current list of potential justices was developed with help from the conservative Federalist Society, and New York Times journalist Maggie Haberman noted on Twitter that all are against abortion.
Gorsuch, the president's first Supreme Court pick, provided the deciding vote in many conservative decisions this past term, covering such topics as religious freedom, abortion and Trump's "travel ban."
"The last four decisions at the Supreme Court were all 5-4, they would have all been reversed," Trump told Bartiromo. "Outside of war and peace, obviously the biggest decision you can make is the selection of a Supreme Court justice."
The president said he expected the Supreme Court nomination process to happen soon, telling Bartiromo, "I'm going to pick somebody outstanding, and I think it's going to go very quickly."
Trump also waxed political on the protesters who took to the streets Saturday to rally against the family separations that resulted from Trump's "zero tolerance" immigration policy, which separated more than 2,000 immigrant children from their parents.
The policy has led to a growing number of Democratic politicians, activists and even immigration officials to call for the abolishment of Immigration and Customs Enforcement — an idea Trump took strong issue with Sunday.
"You know ICE, these are the guys that go in and take MS-13," Trump said. "You get rid of ICE, you're going to have a country where you're afraid to walk out of your house. ICE, [U.S. Border Patrol], these are incredible patriots. The job they have is so dangerous."
The president pointed to ICE raids on Long Island as an example, claiming that ICE "[goes] over to Long Island, they actually liberate towns."
In reality, ICE has not liberated any towns, although the agency has made a number of arrests on Long Island, including 225 arrests within six-day span in April.
Trump predicted Democrats' calls to abolish ICE is a bad political move, saying, "Between Maxine Waters and Nancy Pelosi and getting rid of ICE and open borders ... that's going to be their platform. Open borders, which equals crime.
"I think they'll never win another election, which I'm actually quite happy about that," Trump continued.
In a long-ranging interview that also touched on trade and tariffs, the president took aim at Democrats when asked about recent events in which Americans have publicly spoken out or taken action against his administration, such as White House press secretary Sarah Huckabee Sanders being asked to leave a Virginia restaurant and Robert De Niro saying "fuck Trump" while presenting at the Tony Awards in June.
"Our people are so incredible. You know, there's probably never been a base in the history of politics in this country like my base," Trump said. "I hope the other side realizes that they better just take it easy ... because some of the language used, some of the words used, even some of the radical ideas, I think they're very bad for the country. I think they're actually very dangerous for the country."
The president wasn't afraid to hit back against some of the United States' closest allies abroad, rather than more oppressive regimes. With regard to trade, Trump said he doesn't believe "pinpointing China" is fair because he "like[s] China" and gets along with President Xi Jinping. Yet he was also quick to decry the policies of the European Union.
"The European Union is possibly as bad as China, just smaller," Trump claimed when asked if it would be better to work with the E.U. against China on trade. "It's terrible what they've done to us."
One world leader Trump was quick to praise Sunday was North Korean leader Kim Jong Un. Despite recent reports suggesting North Korea is covertly continuing its nuclear efforts, Trump insisted he believes North Korea is "very serious" about its intentions to denuclearize.
"I really believe that North Korea has a tremendous future," Trump said. "I got along really well with chairman Kim. We had a great chemistry.
"I made a deal with him, I shook hands with him. I really believe he means it. Is it possible, have I been in deals, have you been in things where things didn't work out?" Trump told Bartiromo. "It's possible."