Susan Collins, Senate swing vote, is opposed to activist judge who wants to overturn 'Roe v. Wade'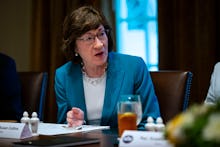 The recent announcement that Justice Anthony Kennedy will retire from the Supreme Court has jeopardized the future of abortion rights in the U.S. — though one of the key senators needed to confirm a future Supreme Court justice said Sunday she does not intend to put Roe v. Wade under threat with her vote.
Following a recent meeting with President Donald Trump about his upcoming Supreme Court pick, Sen. Susan Collins (R-Maine) emphasized in interviews Sunday on CNN's State of the Union and ABC's This Week that she will only support a nominee who demonstrates "respect for precedent" — including the Roe v. Wade ruling that recognizes a woman's right to privacy extends to her choice to have an abortion.
"I told [Trump] that I was looking for a nominee that would demonstrate a respect for precedent, a long-standing and vital tenet of our judicial system," Collins said Sunday on ABC.
"I'm going to have an in-depth discussion with the nominee, and I believe very much that Roe v. Wade is settled law, as it has been described by Chief Justice Roberts," Collins later added on ABC. "It has been established as a constitutional right for 45 years and was reaffirmed 26 years ago. So a nominee's position on whether or not they respect precedent will tell me a lot about whether they would overturn Roe v. Wade.
"A candidate for this important position who would overturn Roe v. Wade would not be acceptable to me, because that would indicate an activist agenda that I don't want to see a judge have. And that would indicate to me a failure to respect precedent, a fundamental tenet of our judicial system," Collins continued.
Trump's ability to replace Kennedy — known as a moderate voice on the Supreme Court — with a more conservative justice has led many to speculate that Roe v. Wade's days as settled law could be numbered. Both Trump and Vice President Mike Pence predicted on the campaign trail that their then-potential presidency would result in Roe v. Wade being overturned, and New York Times journalist Maggie Haberman noted on Twitter that all of the 25 potential Supreme Court picks Trump assembled are opposed to abortion. According to a poll released Friday by the Kaiser Family Foundation, two-thirds of Americans support Roe v. Wade remaining intact.
As one of the Senate's more moderate Republican members, Collins' vote could be crucial to the future of abortion rights in America. Republicans currently hold a 51-seat majority in the Senate, and a Supreme Court nominee will be confirmed by a simple majority of votes.
Collins said Sunday she hopes Trump will look beyond his current list of potential nominees, noting there are nominees on the current list for whom she would not vote.
"There are people on that list whom I could not support because I believe that they have demonstrated a disrespect for the vital principle of stare decisis," Collins said on ABC, referring to the principle of respecting past judicial precedents.
Though Democrats have been pushing for the Supreme Court confirmation to take place after the November midterm elections, Collins said Sunday on ABC that she is in favor of a speedier timeline, explaining she "see[s] no reason why we can't meet the deadline of getting someone on the court so that the court will be at full strength by the October convening."
The Maine senator did vote for Trump's previous Supreme Court pick, now-Justice Neil Gorsuch, saying on CNN that — contrary to popular opinion — she did not believe Gorsuch would vote to overturn Roe v. Wade. Gorsuch provided the deciding vote in a number of conservative decisions this past Supreme Court term, including a ruling in favor of faith-based "crisis pregnancy centers" that counsel women against abortion.
"I actually don't," Collins said when asked whether she believed Gorsuch would vote against Roe v. Wade. "I had a very long discussion with Justice Gorsuch at his office, and he pointed out that he is the author of a book on precedent. So someone that devotes that much time to write a book on precedent, I think understands how important a principle that is within our judicial system."
CNN host Jake Tapper pointed to criticisms on the left suggesting Collins could be "played" by supporting conservative nominees who could potentially still vote to overturn Roe v. Wade, even if they hadn't "demonstrated hostility" to the program in the past. Collins hit back against this suggestion, pointing to her bipartisan record in the Senate and thorough vetting of Supreme Court picks.
"Well I know that's what the left is saying, and that's just so at odds with my record," Collins said on CNN. "I care deeply about who serves on the court. I have voted against judges and I have voted for them.
Collins said her office does research and has discussions on a nominee's record, and she won't vote for someone with an activist record.
"I want a judge that will apply the law to the facts of the case with fidelity to the Constitution," she said "Roe v. Wade is a constitutional right that is well-established, and no less an authority than Justice Roberts said that repeatedly at his confirmation hearing."