Hype Daily: Lin-Manuel Miranda protests and Anna Gunn reflects on the 'Breaking Bad' fandom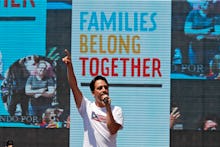 Welcome to Hype Daily, Mic's morning entertainment roundup. Here's everything you need to catch up on in the entertainment world, and what to look forward to today. Want to receive this as a daily email in your inbox? Subscribe here.
Good morning from Hype reporter Tim Mulkerin. (Anna Swartz will be back Wednesday. Please be nice to your substitute teacher.)
Hamilton creator Lin-Manuel Miranda sang a lullaby during the Families Belong Together protests on Saturday
Lin-Manuel Miranda, creator and star in the original cast of Hamilton on Broadway, took part in Saturday's nationwide protests of President Donald Trump's immigration policies, which have resulted in thousands of parents being separated from their children at the border.
Miranda's song of choice was an a cappella rendition of "Dear Theodosia" from Hamilton, the show's "fatherly ballad."
"We're here because [there are] parents right now who can't sing lullabies to their kids," Miranda said onstage in Washington, D.C., per CNN. "I'm just going to sing a lullaby that I wrote, and this is for those parents. And we're not going to stop until they can sing them to their kids again."
You can watch Miranda's performance here.
Production on the upcoming Snowpiercer TV adaptation is not running smoothly
The TV adaptation of a dystopian sci-fi story best described as, "What if capitalism, but trains?" is having serious troubles behind the scenes.
TNT's spin on Snowpiercer, a 2013 film starring Chris Evans and Tilda Swinton, which itself is an adaptation of a 1982 French graphic novel, looks to be the victim of too many competing egos. Scott Derrickson — director of Doctor Strange, who directed the pilot — will not help with extensive reshoots on the series, according to the Hollywood Reporter.
"The 72-page Snowpiercer TV pilot script by @Josh_Friedman is the best I've ever read," Derrickson tweeted Friday evening. "The feature-length pilot made from that script may be my best work. The new showrunner has a radically different vision for the show. I am forgoing my option to direct the extreme reshoots."
This is just the latest departure from an ongoing overhaul of the upcoming Snowpiercer series, which will star Jennifer Connelly and Daveed Diggs, the latter of whom won a Tony for playing Thomas Jefferson in Hamilton. Josh Friedman, who wrote the Snowpiercer pilot, was also serving as its showrunner, until he wasn't. In February, Friedman said he was no longer working on the show, alleging TNT had parted ways with him because they didn't think he would be "compliant" with its vision for the series.
The new showrunner, Graeme Manson, co-created the cult hit series Orphan Black, which stars Tatiana Maslany playing many clones of the same person, each with wildly different personalities. It remains to be seen whether Manson can guide this locomotive smoothly into the station without blasting clean through it.
Breaking Bad actress Anna Gunn reflects on the puzzling hate for her character Skyler
If you ask people to rattle off the top-five most beloved TV shows of the past few years, the Bryan Cranston-led series Breaking Bad is likely to pop up on most of them. The series famously tracked Cranston's character, Walter White, as he evolved from a science teacher with cancer to a ruthless meth-dealing crime lord.
As this transformation occurs, his wife, Skyler White — very understandably — isn't all that approving of her husband's new career path. Though the story is a very clear narrative of one man's journey from good to evil, many of the show's fans never stopped rooting for Walter along the way, leading them to view Skyler, played by Anna Gunn, as some kind of shrill buzz-killer. Backlash against Skyler became so strong that Gunn wrote a New York Times op-ed about it in 2013.
To celebrate the 10-year anniversary of Breaking Bad's 2008 premiere, Entertainment Weekly invited Gunn to reflect on that backlash, now that she's had some separation from it.
"It shook me," Gunn said, per EW. "As an actor, my job is not to always play characters who make everybody happy. That's not interesting. In fact, characters that are more difficult in a way are more interesting. But when you are on a show that has become that big and people are identifying you so much with somebody that they dislike, you can't help but feel like you get folded into it."
Gunn didn't seem to think the backlash against Skyler was any one thing in particular — but certainly, sexism played a major role.
"It was a combination of sexism, ideas about gender roles, and then honestly, it was the brilliance of the construct of the show," she added. "People did find a hero in Walt, but they wanted so much to connect with him so viscerally that to see the person who often was his antagonist — therefore the show's antagonist in a way — they felt like she was in the way of him doing whatever he wanted to do, and that he should be allowed to do what he wanted to do."
Gunn recalled a particularly painful experience at a fan convention, where someone stood up and asked why her character was "such a bitch."
"I think what I said at that time was, 'Let me get this straight. He's cooking drugs…' I laid out everything Walt was involved in," Gunn said, "and everything he'd done up to that point, which was already pretty intense, and then said, 'She's trying to keep the children safe. And because she's telling him to stop doing that, you have a problem with her? That makes her a bitch?' It drew a round of applause from the audience. But there it was. I thought, 'That's so interesting.'"
Put this on your radar: Ant-Man and the Wasp
OK, Marvel doesn't really need my help promoting their newest comic book film, but hear me out: If you, like me, are tired of the bloated, interconnected Marvel Cinematic Universe, Ant-Man and the Wasp might be the perfect little respite.
Unlike the drama of something like Captain America: Civil War or Avengers: Infinity War, this sequel to the Paul Rudd-led 2015 film Ant-Man looks to be a wonderfully self-contained, silly action romp — the perfect little summer film to use an escape from the sweltering heat as July kicks into full swing.
In the sequel, Rudd returns as Scott Lang, the thief-turned-superhero with the power to shrink and grow dramatically in size with the push of a button. This time, however, his much better half, Hope van Dyne (Evangeline Lilly), gets to suit up as the Wasp and come along for the ride. Hope was clearly a much more competent strategist and combatant than Scott the first time around, so it's exciting to see her finally share in a piece of the action.
So far, the film's getting great reviews, sitting at a solid 87% on ratings aggregate site Rotten Tomatoes, which describes the flick as "a much-needed MCU palate cleanser." Also, Michelle Pfeiffer plays Hope's mommy, Janet van Dyne, who is trapped in an alternate dimension called the Quantum Realm. So... there's that.