Today in Trump's America: Michael Cohen suggests he may cooperate with Mueller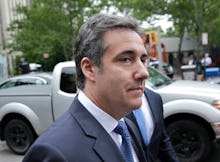 Welcome to Mic's daily read on Donald Trump's America. Want to receive this as a daily email in your inbox? Subscribe here.
Good morning from Emily Singer at Mic.
Here's what's happening in Trump's America:
• It's a quiet week in Washington, D.C., as Congress is out of town for the July 4 holiday.
About the weekend: Trump administration gets mocked for FART Act
The Trump administration drafted a bill that would basically allow the U.S. to stop abiding by the rules of the World Trade Organization, authorizing Trump to unilaterally raise tariffs whenever he wants without any congressional sign off, Axios reported.
The bill is more a signal of Trump's desire to blow up trade deals and has no chance of passing Congress. In fact, it's more likely that Trump has his trade powers curbed rather than expanded, as Republican Sen. Bob Corker is working on a bill that would require Trump to seek congressional authorization to impose tariffs.
The legislation is also being mercilessly mocked for the name Trump's advisers decided to bestow upon the legislation: the United States Fair and Reciprocal Tariff Act, aka the U.S. FART Act.
Even some White House's defenders are skewering the proposed bill.
"WTO has its flaws, but the 'United States Fair and Reciprocal Tariff Act,' aka the U.S. FART Act, stinks," short-lived White House Communications Director Anthony Scaramucci tweeted. "American consumers pay for tariffs. Time to switch tactics."
Today in Trump's America: Michael Cohen suggests he may cooperate with Mueller
Michael Cohen, Trump's long-time personal attorney who is in a slew of legal trouble, signaled in an interview with ABC News that he is willing to cooperate with special counsel Robert Mueller's investigation.
"My wife, my daughter and my son have my first loyalty and always will," Cohen told ABC's George Stephanopoulos in an interview, which aired Monday morning. "I put family and country first."
Trump has been unmoored by the FBI raid on Cohen's home and office, and he has publicly suggested Cohen would resist the urge to cooperate — a move some saw as a sign Trump was dangling a pardon in exchange for Cohen's silence.
"Most people will flip if the Government lets them out of trouble, even if it means lying or making up stories," Trump tweeted in April. "Sorry, I don't see Michael doing that despite the horrible Witch Hunt and the dishonest media!"
But in the interview with ABC News, Cohen said his decision to cooperate with federal investigators or not will be based on advice he receives from his attorney, former federal prosecutor Guy Petrillo, and not any past loyalty to Trump. Cohen also dinged Trump for attacking the FBI and the special counsel's investigation into Russian interference in the 2016 election — but said he did not collude with Russian election meddling efforts.
"I don't like the term witch hunt," Cohen said. "As an American, I repudiate Russia's or any other foreign government's attempt to interfere or meddle in our democratic process, and I would call on all Americans to do the same."
Cohen said the interview to ABC News was part of an attempt to clear his name.
"I want to regain my name and my reputation and my life back," Cohen said in the interview.
However, given that Trump has expressed willingness to preemptively pardon those caught up in the Mueller investigation, it's also possible the interview was a public attempt to secure a preemptive pardon from the president. While that would solve Cohen's legal problems, it could exacerbate Trump's.
One of the articles of impeachment former President Richard Nixon faced regarded Nixon's willingness to provide "favoured treatment and consideration in return for their silence or false testimony, or rewarding individuals for their silence or false testimony." A preemptive pardon from Trump in an effort to impede Mueller's investigation could fall under that category.
And the rest…
Abortion rights under attack: Trump suggested Roe v. Wade, the landmark Supreme Court decision protecting abortion rights, could be overturned, thanks to his new Supreme Court pick. In an interview with Fox News' Maria Bartiromo Sunday, Trump said abortion rights could be legislated by the states. In order for that to be the case, Roe v. Wade would have to be overturned, and a number of conservative states controlled by Republicans would likely ban abortion.
Words matter: At a rally Saturday in Alabama to protest the Trump administration's immigrant family separation policy, a 34-year-old white man marched back and forth saying "womp womp" — the phrase used by former Trump campaign manager Corey Lewandowski — before later pulling a gun on the protesters. No one was injured.