Female veterans could be key in Democrats' quest to win the House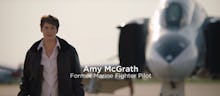 The 2018 midterm election season isn't just shaping up to be the year of the woman — it's also looking like it will be the year of the female veteran.
Of more than two-dozen Democratic veterans who have lined up to run for Congress this fall to help win back 23 seats needed to flip the House majority, more than a third of those candidates are women — many of whom have a high likelihood of winning their elections in November.
In fact, five of the 15 veterans on the Democratic Congressional Campaign Committee's Red to Blue list — which lists top candidates in competitive districts that the committee is trying to flip in November — are women.
"There's no better people to lead the blue wave than these progressive female vets who are running because they don't like the direction of the country," Jon Stoltz, an Iraq War veteran and co-founder of VoteVets.org — a Democratic group that boosts progressive veterans to Congress — said in an interview.
This is not the first time Democratic veterans have looked to help propel Democrats into power. Veterans were also key to Democrats' winning strategy in 2006, when the party rode a wave of anti-Iraq War sentiment to win the House, Senate and a majority of governor's mansions.
Of the 31 seats Democrats netted in the House that year, four were won by military veterans, amounting to 13% of the Democratic pick-ups that year.
So far, 2018 is looking like it could be an even bigger year for Democratic veterans at the ballot box. And it will be unlike 2006, when all of the successful veteran victors were men.
Mikie Sherrill — the Democratic nominee in New Jersey's open 11th District — was a pilot in the Navy, graduating from the Naval Academy in the first class where women were allowed in combat. She is the favorite to flip the 11th District from Republican to Democrat, as the race is rated a "tilts Democratic" contest by Roll Call/Inside Elections.
In Kentucky's 6th District, Democrat and former Marine fighter pilot Amy McGrath is looking to oust GOP Rep. Andy Barr. McGrath defeated Lexington Mayor Jim Gray in a Democratic primary in May, boosted by biographical ads that played up her fight to even be allowed to serve in combat.
A poll conducted by the Democratic Congressional Campaign Committee from May showed McGrath with a double-digit lead over Barr, even in a seat that Trump won in 2016.
In Texas' 23rd District, Iraq War veteran Gina Ortiz Jones is the Democratic nominee in a "toss-up" contest against GOP Rep. Will Hurd.
Ortiz Jones is openly gay, and served in the Air Force during the Don't Ask, Don't Tell era, when being openly gay was forbidden.
In Texas' 31st District, retired Air Force helicopter pilot and Purple Heart recipient M.J. Hegar is running an uphill race against GOP Rep. John Carter.
However, an ad Hegar released called "Doors" has propelled her into the national spotlight.
The ad begins with an image of the door of a helicopter Hegar was flying in Afghanistan before it was shot out of the sky by the Taliban and crashed. It goes on to talk about surviving domestic abuse (her mother was thrown through a glass door by her father) and the doors that were closed in her face when she was fighting to get women the right to serve in ground combat. Hegar ended up successfully suing the Pentagon to allow women to serve in ground combat.
Chrissy Houlahan, an Air Force veteran turned nonprofit executive who is the Democratic nominee in Pennsylvania's 6th District, has the best odds of any of the women veterans running for Congress.
Her district was redrawn in 2018 to become more Democratic leaning after a legal challenge, making Houlahan the odds-on favorite to win the open seat being vacated by retiring GOP Rep. Ryan Costello.
She said President Donald Trump's election sparked her to run, and she's not surprised that other veterans — including female veterans — decided to run as well.
"I was worried about the values I had worked so hard to protect and defend as a military veteran, and had worked so hard in my civilian career to advance as well," Houlahan said, describing her desire to serve as, "very similar to the one you might feel in the military."
Experts like Stoltz chalk up the growing number of women veterans running for Congress to changes in military policy that allowed more women to serve in higher-profile roles. For example, prior to 1993, women were excluded from aircraft that "engaged in combat missions" or from being "assigned to duty on vessels of the Navy except hospital ships and naval transports."
In 2013, before Hegar filed her lawsuit, women were barred from all ground combat positions.
And in 2015, the Department of Defense announced that, for the first time in history, "all military occupations and positions will be open to women, without exception."
Stoltz said that increasing the number of women veterans in Congress is an important step.
"If 15% of the military today is female, then 15% of the veterans in Congress should also be female," Stoltz said.
Currently, there are just two female veterans, Tulsi Gabbard (D-Hawaii) and Martha McSally (R-Ariz.), in the House, and two female veterans, Tammy Duckworth (D-Ill.) and Joni Ernst (R-Iowa), in the Senate.
If Democrats succeed in winning back the House, female veterans will likely have played a major role.
But no matter what happens in November, Allison Jaslow, a two-time Iraq War veteran and former executive director of the Iraq and Afghanistan Veterans of America, said it's important that female veterans are stepping up to run at all.
Jaslow said female veterans and their stories are often overlooked, and that it's a welcome change to see women being highlighted for something other than fighting against sexual assault in the armed forces.
"These women stepping up does so much to change the idea of what candidates can look like," Jaslow said in an interview. "It's so great to get more women in the military running to make sure that more women veterans get recognized and not overlooked."