Here are the 10 best outfits from episode 5 of 'Pose,' including a metallic jumpsuit and a Navy hat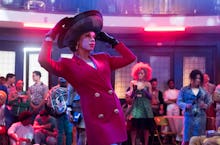 The fifth episode of FX's Pose was perhaps its most poignant so far, with Blanca dealing with the death of her mother and Elektra reckoning with the realization she's not the empathetic house mother she ought to be.
But don't worry: All those feelings didn't get in the way of Pose delivering some of its most decadent, stunning looks thus far, courtesy of costume designer Lou Eyrich. Here are the 10 best looks from episode five of Pose, including Pray Tell's killer headgear and Elektra's somehow chic alternative to a hospital gown.
10. Elektra's post-op, shimmery cream and pastel blouse
9. Blanca's 1980s English teacher outfit, an embroidered black-and-gold coat with an acid wash skirt and yellow turtleneck
8. Lulu's metallic jumpsuit, jeweled VIP hat and rainbow fanny pack
7. Pray Tell's take on a Navy captain, sans shirt
6. Blanca's blue metallic dress with a flowing, embroidered wrap
5. Elektra's blue-and-gold dinner hostess look
4. Lulu's tailored red coat and Kentucky Derby-ready hat
3. Candy's red, black and gold magazine executive look
2. Pray Tell's blue top hat with a giant orange flower
1. Elektra's floor-length golden robe with an oversized bow