What it's like when Nicki Minaj and her fans harass you online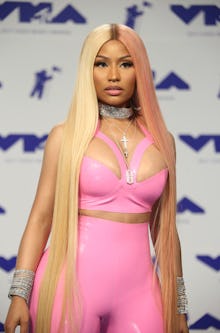 On Saturday, Wanna Thompson, a Toronto-based writer and creator of Wanna's World blog, said she received two hateful, vulgar direct messages on Twitter. They weren't from some random user or passerby — though lately she's received plenty of toxic messages from total strangers as well. No, these messages came from none other than rap queen Nicki Minaj. They were sent in response to a tweet Thompson sent out criticizing Minaj's music.
"You know how dope it would be if Nicki put out mature content?" Thompson wrote on June 29. "No silly shit. Just reflecting on past relationships, being a boss, hardships, etc. She's touching 40 soon, a new direction is needed."
Minaj — who is promoting her fourth studio album Queen, to be released Aug. 10 — replied to Thompson with the below message, according to screenshots Thompson shared via Twitter:
"When ya ugly ass was 24 u were pushing 30? I'm 34. I'm touching 40 ? lol. And what does that have to do with my music? Eat a dick u hating ass hoe. Got the nerve to have a Trini flag on ur page. You must not have heard the Pinkprint. Or pills n potions, bed of lies, save me, my recent feature with Alicia keys, Tasha Cobbs. Just say u jealous I'm rich, famous intelligent, pretty and go! But wait! Leave my balls! Tired of you sucking them.
I dropped my album almost 4 years ago. My bad I'm 35. So at 31. How about you GET LIKE ME? Why don't you ask me to help you get RICH!? Been on top & I ain't going NOWHERE HOOOOOO."
Some members of Minaj's loyal fanbase, who are known as "the Barbz," have also targeted Thompson. On July 3, Thompson shared a screenshot on Twitter of one of the violent misogynoir-laced messages a Minaj fan, named Willam Daish, e-mailed to her.
"Hello, unemployed dark skin black guttersnipe bitch," the e-mail begins. "Why is it that it's always the dark bitches that are so jealous and full of bitterness. I think the only solution for you is to kill yourself. You are too toxic for the world and for your baby."
Some people have jumped to Thompson's defense. Dozens of users have been tweeting messages of solidarity in the wake of the harassment, using the hashtag #IStandWithWanna. Still, Thompson told Mic via Twitter direct message Tuesday that she's "exhausted" by the situation. She did not reply to further questions as of publication time.
Unfortunately, harassment and hate speech seem to come with the territory on Twitter. It shouldn't be tolerated, but it's a consistent presence on the social media platform. What's less common, though, is for the person spewing the venom to be a multiplatinum musician, a celebrity with droves of supporters who can be weaponized.
Thompson isn't the only person who's been singled out by Minaj and her fans. Another independent cultural commentator, Jerome Trammel, said he's been on the receiving end of extreme online harassment from Minaj and her followers for tweeting unfavorable critiques of the rapper. A rep for Minaj did not respond to a request for comment by publication time.
Trammel, a social media coordinator, had his personal information doxxed by Minaj's fans after the artist re-tweeted his critique about her comments on sex workers in the July issue of Elle.
In the article, Minaj said that she wants to let girls know it's okay to "keep their legs closed" after realizing how many young women are "modern-day prostitutes."
She continued: "Whether you're a stripper, or whether you're an Instagram girl — these girls are so beautiful and they have so much to offer. But I started finding out that you give them a couple thousand dollars, and you can have sex with them. I was like, Yikes. It's just sad that they don't know their worth. It makes me sad as a woman. And it makes me sad that maybe I've contributed to that in some way."
On June 15, Trammel called out the comment, by writing that Minaj was slut-shaming these women.
"Your lyrics are hypocritical," said Trammel, "You went over to @ElleMagazine to slut shame certain types of women, cause that wasn't your route (allegedly). People need to STOP trying to dictate & police women & THEIR bodies! If you can't HELP, don't HURT!"
According to screenshots Trammel captured, Minaj responded to his tweet the same day, stating: "Suck my dick ASSHOLE. Had you read the article, I was critiquing MYSELF more than ANYTHING."
Trammel also posted a screenshot of Minaj telling a fan, "Go beat dat nigga like he stole smthn." The tweets have since been deleted. Although Trammel's name was not explicitly stated in the latter tweet, he is accusing Minaj of inciting violence against him, because since she posted this message he's been receiving "thousands" of threats from individuals across Twitter, Instagram and Facebook.
"They pulled up my old [work address] and they were saying they were going to come to my job and kill me," Trammel said in a phone interview Monday. "That I should die. I should hang myself. I should kill myself. I should commit suicide. I should slit my wrist."
He said "several dozens of people" posted his address and shared photos of his home, as well as phone numbers of relatives and their names.
"I'm putting not only myself in danger but them in danger just for sharing an opinion that I should be able to freely do," he said. Trammel added that friends and family members tagged in his photos on Instagram also received threatening messages. "'You're related to Jerome or you're Jerome's friend? We'll kill you,'" Trammel said, describing the mindset of people targeting those closest to him.
People online also found job postings from various companies seeking to fill social media positions on Twitter, and responded to those posts by telling companies not to hire Trammel, he said. He found out because he was tagged in these messages.
When Trammel was seeking legal counsel, he followed a lawyer on Twitter, but some of Minaj's fans noticed Trammel's online activity and retaliated against the attorney. "They messaged him and they were like, 'You better not represent him. We'll kill you,'" he said.
Trammel created a GoFundMe account on June 16, to raise money for a legal fund. He said he's been discouraged from fundraising after fans found the page and began leaving messages in the comment section as an attempt to dissuade donations. As of publication time, he has raised $200 of his $10,000 goal.
"Stan culture is definitely real, but in my experience I've never seen a celebrity use that power or influence to incite such violence," Trammel said. "I've seen them clap back. I've seen them throw shade. But to tell your followers to beat me and physically harm me — that's totally different."
The "Barbz" are not the only fanbase mobilizing around the supposed "enemies" of their favorite artists. On June 19, fans of the recently murdered rapper XXXTentacion — whom he referred to as his "cult" at a show last November — allegedly burned gifts that his ex-girlfriend Geneva Ayala placed at a vigil in Los Angeles and forced her to leave.
Ayala has experienced harassment since she filed charges against XXXTentacion, alleging that he abused her. According to a June Miami New Times report, Ayala said the rapper's fans found her at her job at Dunkin Donuts, harassed her and tried to follow her home. The report also states that a GoFundMe campaign Ayala started — which she needed to pay for surgery after XXXTentacion allegedly abused her — was disrupted by the rapper's fans, who said she misrepresented her claims. GoFundMe temporarily removed the page, which was later reinstated.
Stans not only attack members of the general public but also other celebrities. In February, British pop singer Dua Lipa told Rolling Stone that fans of Taylor Swift sent her messages stating things like, "I hope you die!" after she chose Kanye West over Swift during a 2016 quiz-style interview.
There was also, of course, the time that Beyoncé's fans swarmed the comment section of fashion designer Rachel Roy's Instagram in April 2016. Roy is believed to be "Becky with the good hair," aka the woman that Jay-Z cheated on Beyoncé with, and who inspired that "Becky" lyric on Bey's Lemonade track "Sorry." Roy reportedly involved the LAPD in August 2016 when someone hacked her Gmail and iCloud accounts and changed her cell phone number.
Roy or Lipa may not be as famous as Beyoncé or Taylor Swift, but they are more likely to gain access to and afford expensive, high-profile attorneys who can take on these sorts of cases. But for regular civilians like Thompson, Trammel or Ayala, stopping abusive stan culture and harassment — both online and offline — can be difficult, unless they have the money and connections to gain adequate legal representation. "The [legal] fees are adding up and I can't afford to fight this case alone," Trammel wrote on his GoFundMe page. He is planning to take legal action against Minaj for cyberbullying. "I'm asking for $15,000 to cover attorney fees so I can get justice."
The consequences of cyberbullying can also be physically, mentally and emotionally draining. Online harassment is widely common — four out of 10 American adults experience it, according to a 2017 Pew Research Center report — and for those who use social media platforms for work-related reasons, the abuse can seem inescapable.
"I've had to use these platforms in order to work," Trammel expressed. "So it's not like I can just put these accounts on private and not see it and hide it. I need these things to work and to make a living."
In the case of the Swifties and the Beyhive, the stans acted alone in cyberbullying, but by Minaj allegedly sending direct messages to intimidate critics and ordering fans to attack those that disagree with her, she is normalizing these cycles of online abuse.
"It would be a much better example to her fanbase, and to society at large if she wants to play a positive role in the civility movement, to welcome the criticism as constructive or shrug it off and ignore it [as] hateful and baseless," Sameer Hinduja, the co-director of the Cyberbullying Research Center and professor of criminology at Florida Atlantic University, said via e-mail.
"That is what all of us should do — something that does not come naturally," he continued. "In her position, she wields power over her fanbase, and she should always weigh the long-term implications of how her words may affect their emotions and behaviors."
Trammel hopes by speaking out about this issue more can be done to address stan culture and on-line harassment.
"I hope that I can be part of something bigger where there can be some kind of policy or maybe even laws put in place when it comes to the stan culture," Trammel said. "Like, we get it with bullying and how that harassment could lead to depression, anxiety and suicide, but when it comes to the stan culture, there's nothing put in place for it."