Mic Daily: The importance of female veterans in the upcoming election and more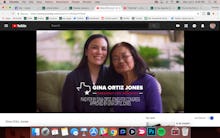 Welcome to Mic Daily: Mic's short, smart email newsletter that cuts through the noise and lands in your inbox every weekday. We carefully curate each edition to send you a cross section of our most impactful, vital, touching stories of the day.
Following several weeks of national uproar over the Trump administration's now-halted policy that separated thousands of migrant children from their parents, organizers in San Diego are drawing attention to court proceedings that criminalize and incarcerate immigrants.
"If we are horrified at the image of children being interned at our border, we must urgently address the criminal prosecutions of their families," Marisa Franco, co-founder of the Latino political group Mijente, said.
The 2018 midterm election season isn't just shaping up to be the year of the woman — it's also looking like it will be the year of the female veteran.
Over a month after disgraced Hollywood mogul Harvey Weinstein turned himself into police custody on multiple felony sex crime charges, a grand jury has indicted him on three additional felony sex charges, according to Variety.
If Weinstein is convicted, two of the charges carry a minimum sentence of 10 years in prison — the maximum sentence is life in prison.
A new shop in Vancouver, British Columbia, has reimagined the supermarket to combat plastic pollution. Nada's concept is simple: All of the food sold inside is entirely package free. Shoppers bring their own clean containers and bags to fill with goods and can pay for bulk items by weight.
Scientists have long understood that planets — like humans — have to be born into the universe. Now, researchers have finally managed to photograph it happening for the first time in history.