Hype Daily: Cardi B breaks a record and Batman fans are mad at the 'New York Times'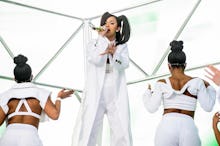 Welcome to Hype Daily, Mic's morning entertainment roundup. Here's everything you need to catch up on in the entertainment world, and what to look forward to today. Want to receive this as a daily email in your inbox? Subscribe here.
Good morning from Hype reporter Tim Mulkerin. (Anna Swartz will be back Wednesday. Please be nice to your substitute teacher.)
Cardi B is the first female rapper to have two No. 1 hits on the Billboard Hot 100
The queen has claimed her throne. This week, the endlessly charismatic rapper Cardi B made history when "I Like It," a collaboration with J Balvin and Bad Bunny, hit the No. 1 slot on the Billboard Hot 100 chart. This makes her the first female rapper ever to have two number one hits. Her first was another cut from her Invasion of Privacy LP, "Bodak Yellow," which ruled the charts for three weeks back in October, according to Spin.
Vulture noted that Cardi B is first the woman to have two No. 1 hits off of a debut album since Lady Gaga.
In a video posted to her Twitter, Cardi B thanked her fans for all their support, but admitted she "slept on" the song, thinking it might not resonate with all of her fans because of its Spanish verses. And at the end of the video, in true Cardi B fashion, she goes on a bit of a tangent.
"I know I look a little fucked up and shit... but it's like, I don't go out nowhere, it's hot as fuck, I'm pregnant as fuck," she said. "It's like, who am I getting cute for? My n*gga gonna fuck me regardless, you know what I'm saying? I'm just so happy guys, thank you, Jesus."
Congrats, Cardi.
The New York Times wedding vows section spoiled a major Batman plotline and fans are not happy
Hey, fair warning that you probably shouldn't read this here blurb if you don't want the new Batman comic spoiled for you.
OK, are they gone? Good.
Here's the deal: In the New York Times vows section, where IRL couples announce their upcoming nuptials, Times comics writer George Gene Gustines snuck in a fun, fictional one: the upcoming marriage of Batman and Catwoman (aka Bruce Wayne and Selina Kyle), the original Ross and Rachel who just can't seem to make things work.
The wedding in Batman No. 50 itself isn't a spoiler (it was an event that comics publisher DC had been teasing for a while) but Gustines spoiled the end of the comic in the story's headline: The wedding doesn't happen after all. Catwoman gets cold feet and jumps ship at the last second.
"It Just Wasn't Meant to Be, Batman," the headline says.
Needless to say, the story's final twist was meant to be a bit of a surprise, which prompted widespread backlash from fans, who were furious the headline itself would spoil such a long-awaited comic for any unsuspecting person flipping through the paper's pages. Tom King, the comic's writer, wasn't too pleased, either.
"Ugh," he tweeted. "Batman 50 spoilers are now out there. Ignore/avoid them (or try to) and read the issue."
In an interview with Vulture, Gustines said if he could get a do-over, he would've changed the headline.
"It seemed disingenuous to write the story without revealing the ending, which is why I included the reveal," he said, per Vulture. "But I should've asked for a nonspoiler headline. We should have given more thought so that the casual reader, flipping or scrolling through the Style section, would not know the twist by reading the headline."
The trailer for a Trayvon Martin documentary, executive produced by Jay-Z, is here
Monday, Paramount Network released a trailer for Rest In Power: The Trayvon Martin Story, a docuseries premiering July 30. The series, executive produced by Jay-Z, tells the story of Trayvon Martin, the unarmed, black 17-year-old who was shot and killed by neighborhood watch volunteer George Zimmerman in 2012. Claiming self-defense, Zimmerman was acquitted in 2013.
The docuseries examines this moment, showing how it influenced the Black Lives Matter movement as it exists today.
Put this on your radar: Nanette
Netflix has had a robust library of stand-up specials for a while, but its latest might also be one of its most ambitious. It's called Nanette, from Australian comedian Hannah Gadsby.
At first, the performance doesn't seem entirely unlike Netflix's other comedy offerings: Gadsby, bespectacled and bright eyed, tells the story of realizing she was a lesbian while growing up in Tasmania, which she describes as quite an intolerant place. But then, things begin changing. Things get meta.
Without spoiling too much, Gadsby plays with the audience's expectations about what a stand-up special should look like and feel like, doubling back on material she told at the beginning of her set, asking its audience — at times, very confrontationally — to ruminate on the troublesome implications of the jokes she just told.
In this way, Nanette masterfully straddles the line between stand-up comedy and a more dramatic, poetic, one-woman show.
Don't read anymore about it. Just go watch it. I'll wait.