Today in Trump's America: Scott Pruitt faces yet more allegations of ethical misconduct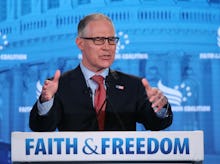 Welcome to Mic's daily read on Donald Trump's America. Want to receive this as a daily email in your inbox? Subscribe here.
Good morning from Emily Singer at Mic. This will be the last newsletter until next week, as we're taking Wednesday, Thursday and Friday off for July 4. We hope you have a fun and safe holiday weekend.
Here's what's happening in Trump's America:
• Trump's public calendar is pretty light Tuesday. It lists a 12:45 p.m. meeting with Secretary of Defense James Mattis and a 4:15 p.m. departure time for a trip to West Virginia, where he's slated to give remarks at the Salute to Service dinner at the Greenbrier resort.
About last night: The hits just keep on coming for EPA administrator Scott Pruitt
Every time a new bombshell drops on Environmental Protection Agency administrator Scott Pruitt, it's hard to believe the scandal around him could get any bigger.
And yet, it consistently grows.
Multiple stories dropped Monday afternoon alleging yet more inappropriate behavior by Pruitt. The Washington Post reported that Pruitt asked a former policy aide to get his wife a job as a fundraiser for the Republican Attorneys General Association, where he wanted her to earn at least $200,000.
And CNN reported Pruitt kept "secret" calendars that had his meetings and calls with industry leaders in order to shield those interactions from the public because aides thought they would "look bad." According to CNN, more than two dozen meetings were removed from his public calendar.
Pruitt is facing multiple congressional inquiries and inspector general investigations into his conduct at the EPA, but he continues to remain in his job atop the EPA.
On Monday, Pruitt was confronted by a woman and her toddler while he lunched at a restaurant in Washington, D.C.
"You've been paying about 50 bucks a night to stay in a D.C. condo that's connected to an energy lobbying firm, while approving their dirty sands pipeline," a woman who identified herself as Kristin Mink told Pruitt, according to a video she posted of the encounter to Facebook. "We deserve to have somebody at the EPA who actually does protect our environment, somebody who believes in climate change and takes it seriously, for the benefit of all of us, including our children."
"So, I would urge you to resign before your scandals push you out," Mink said.
Today in Trump's America: Trump continues to vet Supreme Court nominees
Trump continues to meet with possible Supreme Court nominees on Tuesday, vetting each candidate before his self-imposed July 9 deadline to announce his pick.
On Monday, Trump met with four possible contenders, according to the Washington Post: Brett M. Kavanaugh, Amy Coney Barrett, Amul R. Thapar and Raymond Kethledge. Kavanaugh and Coney Barrett are Trump's top picks for the court, according to the Washington Post.
Kavanaugh worked in the George W. Bush White House and is a former clerk to retiring justice Anthony Kennedy.
Coney Barrett is one of two women on Trump's shortlist, and she faces questions about her ties to a religious sect that sounds eerily like the Handmaid's Tale.
According to a 2017 article about Coney Barrett's faith in the New York Times:
"Members of the group swear a lifelong oath of loyalty, called a covenant, to one another, and are assigned and are accountable to a personal adviser, called a 'head' for men and a 'handmaid' for women. The group teaches that husbands are the heads of their wives and should take authority over the family."
Democrats say Coney Barrett would also overturn Roe v. Wade, the landmark Supreme Court decision on abortion rights.
"She disagrees with 'stare decisis' — the idea that cases like Roe v. Wade are settled law in the courts — and instead has said she wants 'space' for 'reargument,'" Senate Minority Leader Chuck Schumer tweeted Monday. "The bottom line: Judge Barrett has given every indication that she will be an activist judge on the Court. If chosen as the nominee, she will be the deciding vote to overturn Roe v. Wade and to strike down pre-existing conditions protections in the ACA."
The White House, for its part, is not commenting on whether Trump will appoint a justice who would overturn Roe v. Wade — a promise he made during the 2016 election.
In fact, White House press secretary Sarah Huckabee Sanders wouldn't even say what Trump's own position on abortion is — a bizarre dodge that suggests the White House is worried the politics around abortion rights are not in its favor.
"Would the president like to see Roe v. Wade overturned?" a reporter asked Sanders at Monday's daily briefing.
"Once again, I'm not going to get into any specifics that we would be looking at," Sanders replied.
A Quinnipiac poll released Monday shows nearly two-thirds of voters, or 63%, agree with the Roe v. Wade decision.
And the rest…
Really?!: Trump initially declined a request from the mayor of Annapolis, Maryland, to lower the flags to honor the five people killed by a gunman at the Capital Gazette newspaper last week, the Baltimore Sun reported. "Obviously, I'm disappointed, you know? … Is there a cutoff for tragedy?" Mayor Gavin Buckley told the Sun. "This was an attack on the press. It was an attack on freedom of speech. It's just as important as any other tragedy." After the decision sparked backlash, NBC's Peter Alexander reported that Trump will now allow the flags to be lowered.
Come on…: Former Rep. Ron Paul (R-Texas), father of current Sen. Rand Paul (R-Ky.), tweeted a racist and anti-Semitic cartoon Monday. The cartoon featured images of four men, including a Jewish man with an exaggerated hook nose and a black man with oversized lips punching Uncle Sam and saying "cultural Marxism." Alongside the image, Paul wrote, "Are you stunned by what has become of American culture? Well, it's not an accident. You've probably heard of 'cultural Marxism,' but do you know what it means?" The image was deleted and Paul later apologized, blaming the tweet on a staff member. "Earlier today a staff member inadvertently posted an offensive cartoon on my social media. I do not make my own social media posts and when I discovered the mistake it was immediately deleted."
She Who Borne the Battle: I'm shamelessly plugging this piece I wrote Monday about the large number of women veterans running for Congress as Democrats in 2018 and how their candidacies are key to Democrats winning back the House in November. The women have impressive resumes and are running in competitive seats that are in the Democrats' path to a majority.
Abortion rights: My colleague Alison Durkee also wrote an informative piece on Monday about states across the country with "trigger laws" that will automatically ban abortion as soon as Roe v. Wade is overturned. Other states have abortion bans that can't be enforced now, but would go into effect if the landmark Supreme Court decision is overturned.