Trump administration will encourage schools to end affirmative action policies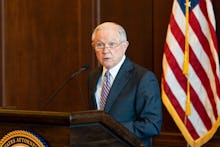 The Trump administration will encourage college presidents to end affirmative action at their schools and instead opt for race-blind admission policies, the New York Times reported on Tuesday — reversing an Obama-era policy created to foster diversity on campuses.
The Supreme Court has limited how colleges and universities can factor race into their admissions processes. However it did not ban affirmative action.
Yet Attorney General Jeff Sessions believes the practice to be unconstitutional, and thus the Trump administration is rescinding seven guidelines regarding affirmative action from the Department of Education's civil rights division, according to the New York Times report
"The executive branch cannot circumvent Congress or the courts by creating guidance that goes beyond the law and — in some instances — stays on the books for decades," Devin M. O'Malley, a spokesman for the Justice Department, told the New York Times.
The move is in many ways not surprising.
In August, the Justice Department moved to reallocate resources in an effort to sue colleges and universities over affirmative action policies. At the time, Sessions made an internal announcement that the Department of Justice was looking for attorneys to work on "possible litigation related to intentional race-based discrimination in college and university admissions."
And in November, Sessions asked the Department of Justice to look into affirmative action policies that he thinks are unconstitutional.
Supreme Court Justice Anthony Kennedy's retirement also threatens the practice of affirmative action. In 2016, Kennedy was the deciding vote in a case against the University of Texas to uphold affirmative action. With his retirement, a conservative justice appointed by President Donald Trump could vote to ban affirmative action.
It's possible that a case filed by Asian-American students against Harvard University could make it to the Supreme Court, giving a Trump-appointed justice the opportunity to overturn the precedent.