People on Twitter are calling out Jack Dorsey for verifying groups that support hate speech — again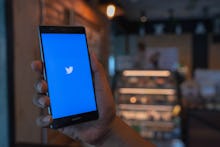 Twitter is, once again, coming under fire for verifying accounts that promote hate speech.
The account belonging to the hate group the Proud Boys bears a blue checkmark, and it started to receive attention early Tuesday, after a tweet by political reporter Emma Roller.
The Proud Boys are an all-men, alt-right collective founded by Gavin McInnes. The group has been involved in protests that often turn to violence including the ones in Boston in May, Charlottesville, Virginia, in August and most recently Portland, Oregon. The black and yellow Fred Perry polo shirt has become a uniform of sorts for the group.
This isn't the first time the Proud Boys were at the center of controversy around verified Twitter accounts. In November, Jason Kessler, the white supremacist who started the violent protests in Charlottesville and a member of the Proud Boys, was verified on Twitter. Twitter faced backlash for this decision, some citing the fact that Kessler led a white supremacist rally; others pointed to the Confederate battle flag in his cover photo. Twitter has since removed the blue checkmark from Kessler's account. In response to the backlash, the company put its verification process temporarily on hold.
According to Twitter's verified accounts FAQs, "promoting hate and/or violence" based on "race, ethnicity, national origin, sexual orientation" and more could cause an account to lose its checkmark. Some Twitter users don't believe the company is actually sticking to its guidelines.
Comedian Seth Rogen noted one possible reason the Proud Boys came into their new checkmark status: @Jack "simply does not seem to give a fuck." He tweeted on Tuesday that he had been DMing Dorsey for the past eight months.
In November, Twitter Support clarified that the blue badge isn't an endorsement, but simply a way to clarify which page belongs to an actual well-known person or group of people.
"Verification was meant to authenticate identity and voice, but it is interpreted as an endorsement or an indicator of importance," read the company's tweet on the issue. "We recognize that we have created this confusion and need to resolve it. We have paused all general verifications while we work and will report back soon."
After a brief break in November, Twitter started verifying users once again in January.
While Twitter stands by the sentiment that the checkmark is simply a confirmation of identity and has nothing to do with endorsement, this isn't always the case. In some cases, well-known people like the founder of WikiLeaks Julian Assange have been denied a verified badge.
Mic has reached out to Twitter for comment and will update this post once we've received word.
Correction: July 31, 2018