Is it ethical to eat at a restaurant at the center of a #MeToo accusation?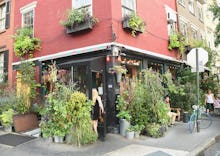 At 8:45 p.m. on a sweltering Saturday night in early July, the crowd at the Spotted Pig in New York City's leafy West Village neighborhood appeared at full tilt. Patrons jostled for seats at the moodily lit downstairs bar and a scrum of bodies mobbed the host's stand. To this onlooker, not much seemed out of place at the perennially popular spot, whose Roquefort-topped bistro burger by chef April Bloomfield — no alterations allowed, by strict order of the kitchen — has earned cult-like devotion in the years since the restaurant's opening in 2004.
Aside from the burger, which remains on the menu, much has changed. In December, Spotted Pig co-owner Ken Friedman was accused of multiple allegations of sexual harassment from former employees. Friedman apologized in a public statement for "behavior which can accurately be described as abrasive, rude and frankly wrong," but has not admitted outright guilt or divested from his company.
Bloomfield announced her exit from the Spotted Pig in early June. Soon after, chef Gabrielle Hamilton announced she, along with her wife and co-chef Ashley Merriman, would be partnering with Friedman to run the Spotted Pig. The decision was roundly met with anger and disbelief from the food community.
Yet throngs of burger seekers and curious diners continue to hum through the Spotted Pig's vestibule. One wonders: Are they none the wiser, or do they simply not care? Several exiting patrons revealed they hadn't heard of the allegations, suggesting the former is true.
A recent request for a table for two, however, revealed that all may not be as it seems. The wait during the popular dinner hour was 30 minutes, which might be considered successful for a restaurant of lesser fame. But at the Pig, whose VIP clientele and fawning reviews in its heyday resulted in a two-hour (or longer) backlog, it's a considerable demotion.
How diners are reacting to the #MeToo accusations
It's difficult to determine the precise reason for such a downturn, but it's reasonable to assume diners might be grappling with the ethics of patronizing a restaurant associated with an accused abuser in the #MeToo era. Does the nature of the harassment matter, one might ask? What if the accused has admitted guilt and expressed remorse? What if the accused has divested from the business, but the structure that allowed for the abuse to fester remains? Would a boycott hurt the livelihood of innocent employees? Is it even the onus of the diner to act as judge and jury?
"I would never support an establishment that has been exposed for their toxic work culture," Amy Capetta, a New Jersey-based health writer, said in a tweet. "My heart breaks for the honest, hardworking people who are struggling to pay their bills — some of them are most likely victims as well. But at the end of the day, if the top person (like Friedman) is in the back room counting the profits, I can't."
So agreed Debra Shepard, a marketing executive from Bethesda, Maryland, who recently stopped patronizing several D.C.-area restaurants owned by Top Chef alum Mike Isabella. A federal lawsuit filed by a former employee in March accused Isabella and several of his partners of "extraordinary" sexual harassment; the suit was later settled. Although the settlement's financial terms remain confidential, it included a binding agreement requiring Mike Isabella Concepts to take corrective measures aimed at fostering a work environment free of sexual harassment. Isabella remains at the helm of his more than one dozen eateries spread across Maryland, Virginia and Washington, D.C.
"I get that [boycotting Isabella's establishments may be] hurting the people who work in the restaurants, and it is a tough decision," Shepard wrote in a Facebook comment. "But I feel that I can't be a patron of any establishment where the owner acts in a manner inconsistent with my beliefs. I won't go to restaurants at any Trump property, nor would I go to a baker who would not bake a cake for a gay wedding."
Not all would-be diners view such decisions in black and white. "It would depend on the situation," Marla Cohen Senter, a teacher's aid in Rockville, Maryland, said. "Being accused does not mean guilty." Moreover, she continued, "If I stopped going or doing things because I felt that owners' actions, philosophies or behaviors were different, distasteful or just offensive compared to mine, I would be boycotting so many establishments that I would be home quite a lot. I am not excusing the behavior, but if we dig deep enough, we will find issues with most."
Such were the sentiments of several diners exiting Otto Enoteca e Pizzeria on Saturday evening. Celebrity chef Mario Batali, who has also been accused of sexual misconduct, opened the Greenwich Village enterprise in 2003. Unlike Friedman, however, Batali was given the boot after allegations of serious sexual misconduct against him emerged in late 2017. According to a May statement from B&B Hospitality Group, which manages many of the restaurants Batali helped open and co-owns, its partnership with Batali was set to be dissolved by July 1.
It's unclear what actions the group is taking to mend the culture that allowed Batali's alleged actions to continue for so long, though B&B co-owner Joe Bastianich said in a statement to Eater shortly after the allegations emerged that he was "focused on ensuring that our more than 1,000 employees continue to have a safe and positive work environment."
"I've gone here for about 20 years now," an Otto Enoteca e Pizzeria patron who identified herself only as Emily said. "I think there's a separation in my mind" between the allegations and the food, she said, adding that "at this point, they're just allegations."
But her dining companion, an out-of-towner who declined to give his name, hadn't heard anything about the whole debacle. Neither had another couple visiting from Ohio, who expressed shock upon hearing the news before entering the restaurant. "Oh, no," the husband said, trading a worried glance with his wife. "What happened?" They shuffled into the restaurant, however, where there was no wait for tables; the restaurant appeared about half full.
Business seemed significantly more bustling at Babbo Ristorante e Enoteca, another restaurant Batali opened in 1998. There was a 45-minute wait for a table for two, and a steady stream of diners entered and exited. Several said they knew about the allegations against Batali, but felt comfortable patronizing the establishment because Batali was on his way out.
"Male chauvinism, that's been out for 40 years," one patron, who declined to give his name, said. He shrugged. "I love the branzino, though."
What would an ethicist say?
"The question of whether or not to patronize a restaurant owned by someone accused of sexual harassment ties into a larger question about ethical consumerism," Vanessa Wills, an assistant professor of philosophy at George Washington University, said. In general, she said there is an "obligation in favor of not spending money in ways that contribute financially to ethical harms."
That's why, for example, ethical vegans often choose not to financially support the meat and dairy industries, she said.
That said, any situation — ethical veganism included — is rarely cut and dry. "The world is set up in such a way that we are almost always spending money in ways that do contribute to ethical harms, whether we do so wittingly or unwittingly," Wills said. "If we were to be completely consistent in not contributing financially to ethical harms, we would soon find that this task overwhelms most of our capacities to carry it out. We would have to spend practically nothing — and in fact, some people do attempt this total withdrawal from the capitalist economy as a radical refusal of complicity with it. But this is not feasible for most of us."
That doesn't mean the average diner is off the hook, though.
"Continuing to patronize the restaurant might signal to one's community an endorsement of that harassing behavior, contributing to the weakening of social norms against such harassment," Wills noted. It also might coarsen one's own ethical sensibilities, she added, reinforcing a habit of overlooking bad behavior. It could even express disrespect or disregard for harassment victims, or worse, signal to other restaurant owners that such abusive behavior is unacceptable.
"I think there is a danger that such boycotts can just be a way of expressing one's self-righteousness or moral superiority without actually doing anything to remedy the situation." — Karen Stohr
But boycotts alone aren't necessarily the answer, Karen Stohr, an associate professor of metaphysics and moral philosophy at Georgetown University and a senior research scholar at the school's Kennedy Institute of Ethics, said.
"I think there is a danger that such boycotts can just be a way of expressing one's self-righteousness or moral superiority without actually doing anything to remedy the situation," Stohr explained. "Suppose a restaurant owner has a history of harassing female employees. Presumably the women who continue to work there need the money. It's not at all obvious that boycotting the restaurant helps them … Maybe I will feel better if I don't spend money at that restaurant, but if I really want to show solidarity with the people I profess to care about, I had better make sure that my actions are genuinely helpful to them. Otherwise, it's just moral window dressing, keeping my own hands clean at the expense of other people."
What should an ethical diner do?
So, how does one actually take a stand against restaurants where sexual misconduct has occurred, while at the same time helping to effect change and reduce the victimization of innocent employees? Wills suggested that if you do choose to boycott a restaurant, tell people about it — share your opinion with friends and engage them in conversation. "Now we're talking about being a part of an organized method to effect change," Wills said.
Even better, find out what workers in that restaurant are saying. What does solidarity look like for them? Admittedly, Wills acknowledged that employees fearful of losing their jobs may not readily speak out. But it's important to at least investigate, whether that be through an Internet search or asking friends in the food service industry.
You can also help protect employees against a culture of harassment by promoting workers' causes, whether that means attending protests, working to spread the message in one's own community or by supporting worker-aligned political candidates.
Regardless of what you choose to do, it's certainly not unethical to boycott restaurants at the center of #MeToo accusations.
"None of us are under an obligation to eat at a particular restaurant," Stohr said, a revelation that might have seemed obvious a year ago. If you decided not to patronize a restaurant because of bad food or lackluster atmosphere, that'd hardly be unethical. Choosing not to eat in a restaurant whose management leaves a bad taste in your mouth is no different.
Still, it's impossible to say definitively if the actual act of eating in one of these restaurants is unethical. What if you patronize such an establishment but otherwise support workers' causes in a material way? What if you were asked to attend a party there but didn't foot the bill? What if you didn't know when you sat down, but your dining companion tells you halfway through the meal?
"It's just super thorny," Wills concluded. She took a beat to consider what she might do herself. "I don't think there's a hard and fast answer," she said. "But I wouldn't go."
Correction: July 6, 2018