This week in food and travel: Chefs on the impact of ICE raids on their businesses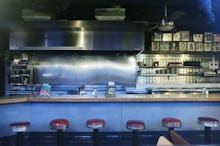 The food service industry has historically relied on immigrants for its labor force. Recently, the U.S. Immigration and Customs Enforcement agency has conducted large-scale raids, concentrated on restaurant kitchens, farms and food-processing plants across the country. Mic spoke to three restaurant owners about what it means to run a business at a time when your labor force has become a daily headline and the work you do has become a political flashpoint.
In other news, Hawaii becomes the first state to ban sunscreens containing two harmful chemicals, and we peek inside the New York City diner that's become a gathering spot for queer people.
Restaurants have been at the center of the national immigration debate, long before anyone cared about whether Sarah Huckabee Sanders' cheese plate got comped at the Red Hen. Read more here.
The governor of Hawaii has signed a bill banning the purchase and distribution of sunscreens that contain two common chemicals, found in popular brands like Coppertone and Banana Boat. Read more here.
The grocery store of the future is here, and there's no single-use plastic to be found anywhere. Read more here.
Recently, there's been a larger call for sober spaces for queer individuals to meet and socialize outside of bars. MeMe's Diner, which opened in November, is one such alcohol-optional gathering space in New York. Read more here.