Scarlett Johansson is going to play a trans man — and just responded to criticism in the worst way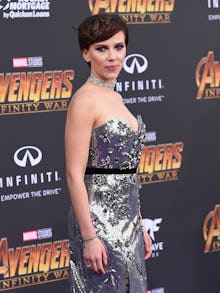 Scarlett Johansson has landed herself in hot water over her newest movie role — and didn't exactly respond to criticism in the most thoughtful way.
In early 2017, Johansson faced widespread accusations of whitewashing when it was announced she'd be starring in Ghost in the Shell, an adaptation of a Japanese manga. She's now re-teaming with that film's director, Rupert Sanders, for an even cringier casting: She's portraying a transgender man.
In Rub & Tug, Johansson is slated to play the real-life Dante "Tex" Gill, a trans man who had a massage parlor and sex work business in Pittsburgh in the 1970s and '80s, according to the Hollywood Reporter. Given the ongoing issue of the lack of adequate representation of trans actors and filmmakers, Johansson's move to take the part is being widely criticized.
The argument goes, essentially, that trans people face increased rates of violence, discrimination, poverty and mental health — and, largely speaking, cisgender people tell their stories on their behalf. They garner awards and nominations in the process, rather than actually allowing trans actors and filmmakers to tell their own stories. (An exception to this is something like the TV show Pose, which makes great efforts to fill its cast and crew with trans people.)
Johansson seems well aware of this history, but perhaps not the importance of it or the role she could play in changing things. In response to the backlash, Johansson said the following in a statement to Bustle:
"Tell them that they can be directed to Jeffrey Tambor, Jared Leto and Felicity Huffman's reps for comment."
Yes, really.
In case that statement doesn't mean much to you at first glance, let's explain: Tambor, Leto and Huffman are cisgender actors who have all portrayed trans people in leading roles. Before being fired surrounding allegations of sexual harassment, Tambor played Maura Pfefferman on Amazon's Transparent; Leto played Rayon in Dallas Buyers Club, a role for which he won an Oscar; and Huffman played Bree in Transamerica.
Johansson's response to criticism for playing a trans man is simply to point to other people who have done the same thing and say, "They started it!"
OK.