Hype Daily: Sacha Baron Cohen is up to something, ScarJo continues to get called out and more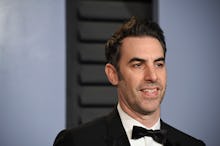 Welcome to Hype Daily, Mic's morning entertainment roundup. Here's everything you need to catch up on in the entertainment world and what to look forward to today. Want to receive this as a daily email in your inbox? Subscribe here.
Good morning from Hype reporter Anna Swartz.
Sacha Baron Cohen might be working on a Trump-related project... for some reason
The man who launched a million terrible Borat impressions might be back with a new project. British comedian Sacha Baron Cohen, known for playing immersive — and offensive — characters, tweeted out an ominous video Wednesday teasing a new, apparently Trump-related endeavor.
The video had an old clip of now-President Donald Trump complaining about Cohen, telling the camera, "This third-rate character named Sacha Baron Cohen. I only wish that he would've been punched in the face so many times right now he'd be in a hospital ... go to school ... learn about being funny." Yes, that's a real quote — Trump and Cohen have had somewhat of an ongoing feud ever since Cohen invited Trump on his parody talk show Da Ali G Show in 2003.
Wednesday's video ended with the words "Sacha graduates ... Soon," followed by the Trump University logo. So whatever Cohen is planning we'll probably know more soon, whether we want to or not.
Why a video of Andy Dick and Ivanka Trump is making the rounds
On Monday, news broke that comedian Andy Dick was charged with sexual battery in connection with an April incident in which he allegedly touched and verbally harassed a woman walking near him on a sidewalk. Dick has a past history of inappropriate behavior, including a newly resurfaced video in which he repeatedly tried to touch Ivanka Trump during a 2007 appearance on Jimmy Kimmel Live!
In the clip, Dick and Trump, both guests on the show, are seated next to one another and Dick reaches over to touch Trump's leg. Both she and host Kimmel have to physically move his hands away. People reported that Dick was eventually dragged off the stage.
Justin Timberlake is trying to get in on that song of the summer action
Justin Timberlake just can't let the summer go by without submitting an entry for SOS (song of the summer, obviously). On Tuesday afternoon, Timberlake released a surprise new song, "SoulMate," which literally opens with the line "summer starts now." It's back to dance-y Justin, a change from his most recent album, this year's Man of the Woods.
According to a post on Timberlake's Instagram, he made the song in a hurry: "Bahama Sessions - "SoulMate", written: June 26th, final mix: July 3rd."
The ScarJo fallout continues
Days after it was revealed that Scarlett Johansson is slated to play real-life transgender figure Dante "Tex" Gill in an upcoming film, the anger and frustration over her casting is ongoing. Hollywood has a history of handing out awards to cis actors for playing trans characters but not letting trans actors have a chance — a fact Johansson and her team seemed pretty oblivious to when they responded to criticism by directing critics to "Jeffrey Tambor, Jared Leto and Felicity Huffman's reps for comment" Tuesday.
The conversation continued on social media Wednesday: Actress and advocate Trace Lysette, who is trans, tweeted about the lack of access for trans talent in Hollywood, saying, "We don't even get in the room to be considered. You would gag at the skills within the trans community." Trans performer and drag star Peppermint wrote, "We are never included. stories and roles are being created about us and We're never ASKED. Give Trans actors a chance. Black actors experienced this 100 years ago. Yes she's talented. But SO ARE WE."
Put this on your radar: Sorry to Bother You
The new film Sorry to Bother You, a directorial debut from Boots Riley, who also wrote the film, hits theaters Friday. The film stars Lakeith Stanfield as a telemarketer who suddenly becomes successful when he puts on a "white-sounding" voice. Tessa Thompson, Terry Crews, Patton Oswalt and Danny Glover also star in it. Buzz about the film has been good, New York Times movie critic A.O. Scott praised Riley for "building a raft, and steering it straight into the foaming rapids of racism, economic injustice and cultural conflict."