Report: Mueller to add new Justice Department resources to ongoing Russia probe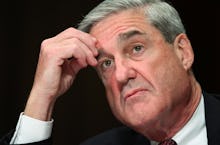 Special Counsel Robert Mueller is asking for more resources for his investigation — including a cadre of additional Justice Department prosecutors, according to a new report from Bloomberg.
According to the report, Mueller has been busy recruiting U.S. attorneys and FBI agents to supplement his investigative team. He already has a team of 17 federal prosecutors working on the investigation into Russian interference in the 2016 presidential election.
Current and former officials who spoke to Bloomberg for the report speculated that the move could indicate Mueller would want to pass off portions of the investigation to other departments at some point.
As the inquiry into potential collusion between a nascent Trump campaign and the Kremlin stretches into its second year, Mueller has charged both Americans and Russians with alleged crimes, including Trump's former campaign manager, Paul Manafort Jr., and his business partner, Rick Gates. Mueller also indicted 13 Russian individuals on criminal charges stemming from an intent to interfere with the U.S. election via social media.
Mueller has also already referred parts of his investigation to other departments, including the case of Michael Cohen to the U.S. Attorney's Office for the Southern District of New York, which eventually executed an April 9 raid on Cohen's home, office and hotel room.
Still, as the scope of the investigation has expanded, and despite several key indictments and confessions from former campaign officials, pressure for the Special Counsel to deliver has mounted. In several tweets and public statements, Trump himself has repeatedly claimed that the investigation is politically motivated, and some embattled Congressional Republicans — like Rep. Todd Rokita of Indiana — are running campaigns on the premise of ending the Mueller "witch hunt." 
With Trump's second Supreme Court appointment looming, many Congressional Democrats seem poised to use the ongoing investigation as grounds to stall the nomination process. Yet with pressure mounting on both sides of the aisle, Mueller's investigation seems likely to continue its deliberate march forward with little regard for external factors.