Trump has reportedly asked aides about possibility of invading Venezuela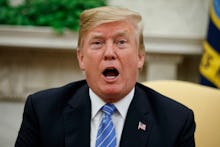 President Donald Trump in 2017 "stunned" top advisers by raising the possibility of invading Venezuela, according to new reports Wednesday.
According to the Associated Press, which first reported the comments, Trump questioned during a sanctions discussion in the Oval Office in August why the United States couldn't "simply invade" the South American country.
Advisers, including then-Secretary of State Rex Tillerson and then-national security adviser H.R. McMaster, were taken aback by the president's remarks and attempted to explain to him the negative consequences of such a move.
But Trump continuously pushed back against his aides, according to the AP, and the next day publicly floated the possibility of using a "military option" in Venezuela.
"We have many options for Venezuela," Trump told reporters at the time. "And by the way, I am not going to rule out a military option."
Trump's comments in 2017 came amid violent protests in Venezuela, where President Nicolas Maduro has increasingly relied on authoritarian tactics and committed "extensive human rights violations and abuses," according to a 2017 report from the United Nations Human Rights Office.
Trump has been critical of Maduro's government, repeatedly demanding the "restoration of democracy and political freedoms" in Venezuela. The Trump administration has also sanctioned Maduro for "widespread human rights abuses."
An official familiar with Trump's remarks about invading Venezuela told CNN that Trump was merely thinking "out loud'" and that there is no "imminent plan for a military strike" against the country.
Still, the reported comments spurred Maduro to warn his military to be at the ready.
"You cannot lower your guard for even a second, because we will defend the greatest right our homeland has had in all of its history, which is to live in peace," Maduro reportedly said at a military ceremony in Caracas, Venezuela, on Wednesday.
"We need to defend our right for peace, dignity and for the right to chose our own destiny," Maduro added. "No empire is going to choose for us."