The new Whitney Houston documentary is more revealing than the first, but it's the last one we need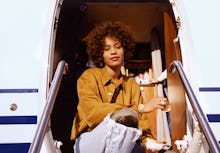 In a recent interview with Good Morning America, Pat Houston, the former manager and sister-in-law of the late Whitney Houston, defended Whitney, the new documentary chronicling the iconic singer's life. Pat, who serves as executive producer of the project, explained that the movie was made by "people that have dealt with her emotions from the day she was born until the day she died, people that were around her. People that really knew her and had to deal with everything — really lived what she lived."
It's a stark contrast from 2017's Whitney: Can I Be Me, a heartbreaking documentary co-directed by Rudi Dolezal and Kurt & Courtney auteur Nick Broomfield that differs due to its lack of cooperation from the Houston family. Instead, that film uses footage from Whitney's world tour in 1999 to drive the story. It also employs a hypothesis to craft a narrative about what led to the pop titan's early demise: the notion that Whitney's inability to be with Robyn Crawford, her best friend and long-rumored romantic interest, is what ultimately killed her.
I took issue with that narrative because it felt incomplete. At the time, I wrote that the inability to date Crawford publicly without grave consequences for her career was surely a problem, but there were so many other pressures hounding Whitney — some known and some seemingly unknown. In Whitney, directed by Kevin Macdonald and set for release Friday, those suspicions are confirmed, and in ways that makes this documentary indeed more complete: more footage, more willing participants who were close to Whitney, more details about her life. But it still remains depressing, infuriating viewing.
There are some moments of levity, like hearing Whitney talking about the politics of the music industry and lamenting the reality that less-than-stellar singers can still enjoy great success by declaring, "Paula Abdul ain't shit," while her mother, Cissy Houston, huffs, "Janet Jackson shit. Let the bitch have it." Whitney, for all her struggles, was hilarious. But her story wasn't funny, and if anything, when the film revisits all of the mocking of Whitney's substance abuse issues, there is an immediate sense of guilt that washes over. Even in a group of journalists watching at a screening of the film, many — particularly the black people in the room — were brought to tears by the end. It did not help that we watched this film on the ninth anniversary of Michael Jackson's death.
While much of Whitney revisits stories long told, there are plenty of new nuggets. Like, say, the fact that the King of Pop and arguably the greatest singer of the 20th century had a unique bond that was largely forged by their shared hardships with the massive fame that their talents produced. As Debra Martin Chase, who ran Whitney's production company, BrownHouse Productions, noted in the film, Jackson would call Whitney and she would go to whatever hotel he was at and sit with him — often in silence.
Those two had many difficulties in common, but the documentary suggests that what united them most was that they both were victims of abuse and exploitative family members.
There are plenty of people who clearly cared about Whitney. Many of them appear in this film and most of them are her family members. However, caring for someone and being good for that person are two very different things. Sadly, when it comes to what contributed to the chaos that gradually consumed Whitney whole, it appears to be her family members who served as the conduits, culprits and co-conspirators. Now they get to sit here and tell her story, some without totally owning culpability.
To watch Whitney's brothers reveal that they gave her cocaine and weed for her 16th birthday is upsetting. That disturbed feeling only intensifies upon watching all of the old footage with them on the road with her. According to the film, they were put on the payroll, but it seemed like their only contribution was scoring their sister drugs. In so much of the footage used, Whitney and her brothers appear extremely high. It's so hard to see all of these broken people self-medicating, especially Houston, who gradually destroyed one of the finest instruments the world has ever heard.
Worse, her brother Gary Houston is embarrassingly homophobic in the film; his description of Crawford as a "nobody, an opportunist" and a "wannabe" is jarring, to say the least. He claims that Crawford "was something that I didn't want my sister to be involved with." Gary goes on to reveal that Whitney's father, John Houston, whose company infamously sued his daughter for $100 million, wasn't a fan of Crawford, either. But if the audience were to assess who was better for Whitney, it certainly wouldn't be any of the men related to her. Those men were supposed to be protecting her and they failed in spectacular fashion.
And though her mother's thoughts on homosexuality are not favorable, there is a bit of irony in seeing that the two women who loved Whitney most are the ones who were pushed away in their efforts to deter her from substance abuse. Likewise, for all the chatter about Clive Davis' role in spearheading Whitney's career, Whitney suggests Cissy deserves the most credit, while additional kudos ought to go to Crawford, as fans may not have known the extent to which she dealt with the label and assisted with costumes, lighting, staging and videos.
When it comes to what destroyed the star that black women created and cultivated, we learn it was allegedly another singer and family member, Dee Dee Warwick, that scarred Whitney early in her life. Warwick, who died in 2008, allegedly sexually abused Whitney and her brother, Gary, according to the film. We first heard about this back in May, when Macdonald explained that upon watching old footage of his subject in preparation, he developed a hunch that would end up being confirmed by people he interviewed for the documentary.
As he told Vanity Fair, "I've seen and done some filming with people who have suffered childhood sexual abuse, and there was just something about her manner that was reminiscent to me of that sort of shrinking — a lack of comfort in her own physicality that felt, maybe that is what it was." He went on to say, "Shortly after thinking that, someone did tell me off the record about being told by Whitney about being abused, and it being one of the central reasons behind her self-torture. It took a while for anyone to go on record about it, and eventually the family did."
You can tell that it took a while as you watch the film. It's not until nearly the end that we learn that Dee Dee, Whitney's cousin and Dionne Warwick's sister, is accused of molesting both Whitney and her brother Gary. While their mother toured the nation as a background singer for Aretha Franklin, the Houston children were often placed in the care of others, including Dee Dee. (After the film screened at the Cannes Film Festival in May, the Warwick family did not respond to press requests for comment.)
Macdonald used an interview Whitney gave in 1990, and she cited child abuse as the thing that upset her most. "It bothers me," Whitney said. "It makes me angry." It also seemingly left her stuck. Mary Jones, Whitney's aunt who once worked as her personal assistant, discovered Whitney's body when she died. Reflecting on the trauma Whitney carried with her in light of the sexual abuse she allegedly experienced as a kid, Jones said that when she would often think of the person she loved so dearly, "Whitney's somewhere in there, but she's trapped."
Though it's not easy viewing, Whitney is undoubtedly worth watching. Even so, this sort of pain is not entertaining — prepare yourself accordingly. This film is both anger-inducing and utterly depressing.
Normally, I would be curious to know how Cissy feels now after knowing what her daughter went through. However, after watching Whitney, I think we've seen enough dissection of Whitney's pain. We know what trapped her. Now it's time to finally let Whitney be.