UK police are investigating 3 new allegations of sexual assault against Kevin Spacey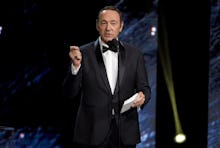 Actor Kevin Spacey is being investigated for three additional allegations of sexual assault in the United Kingdom, the BBC reported on Tuesday. Spacey was already being investigated by London police in connection with two other allegations of sexual assault and one of assault, according to the BBC. The former House of Cards star is now under investigation for a total of six alleged incidents in the U.K.
According to Variety, one of the new allegations against Spacey dates back to 1996. The other two new allegations of assaults took place in 2008 and 2013 — while Spacey was artistic director of the Old Vic, a historic London theater. The Old Vic has been accused of "turning a blind eye" to Spacey's behavior, which allegedly included inappropriately touching young men, the Guardian reported in 2017.
The first allegations against Spacey came to light in October when actor Anthony Rapp told BuzzFeed News that Spacey made a sexual advance on him when he was 14 and Spacey was 26. Rapp told BuzzFeed that he was inspired to come forward with his allegations against Spacey after seeing women go public with their own allegations against other powerful Hollywood figures. Rapp said he spoke out "to try to shine another light on the decades of behavior that have been allowed to continue because many people, including myself, being silent."
At the time, Spacey said in a tweet that he had no recollection of "the encounter" with Rapp and said it "would have been deeply inappropriate, drunken behavior." In the same statement, Spacey publicly came out as gay — a choice many saw as an attempt to deflect from the allegations.
But more allegations followed — including from a former news anchor in Boston who said that Spacey sexually assaulted her teenage son on Nantucket, Massachusetts. The repercussions came quickly for Spacey: Netflix halted and then resumed production on House of Cards, moving forward without Spacey. It also canceled plans for a Gore Vidal biopic that would have starred Spacey. Director Ridley Scott hastily reshot scenes from his 2017 film All the Money in the World, with Christopher Plummer replacing a character played by Spacey.
But Spacey wasn't without his defenders — former Smiths singer Morrissey seemed to defend Spacey in an interview in 2017, although he later denied having done so. And, as with so many of the powerful men who've been accused of assault and abuse in recent months, the threat of a "comeback" for Spacey seems to loom on the horizon.
In June, news broke that the distributor of the upcoming film Billionaire Boys Club, which stars Spacey, planned to release the film despite the allegations against him. "We hope these distressing allegations pertaining to one person's behavior — that were not publicly known when the film was made almost 2 1/2 years ago and from someone who has a small, supporting role in Billionaire Boys Club — does not tarnish the release of the film," the company said in a statement to CNN in June. It remains to be seen whether the revelation of new allegations against Spacey will have any effect on the plans to release the film.