Disgraced former Fox News executive Bill Shine officially joins White House communications team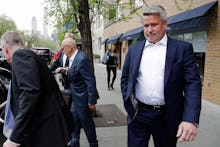 President Donald Trump on Wednesday announced that Bill Shine, who was ousted from Fox News in a sexual harassment scandal last year, has joined the White House communications team after weeks of speculation.
The former Fox News co-president will serve as an assistant to the president and deputy chief of staff for communications, the White House said in a brief statement.
Shine will now take over a role that has been vacant since Hope Hicks, one of Trump's most trusted aides, resigned earlier this year.
"He brings over two decades of television programming, communications, and management experience to the role," the White House said in a statement.
Shine was forced out at Fox News in May 2017 over allegations that he helped cover up a culture of sexual abuse and harassment at the network, though he was not personally accused of sexual misconduct himself.
Allegations of misconduct at Fox News last year sent the network into turmoil and also led to the ousting of Bill O'Reilly, the conservative pundit who had long been the face of the network. The O'Reilly Factor host had been accused by multiple women of sexual harassment.
Ahead of Shine's forced resignation last year, Sean Hannity — the Fox News host and Trump confidante — tweeted that his departure would mark "the total end of the FNC as we know it."
"Done," he tweeted.
Both Hannity and O'Reilly endorsed their former boss for the top White House communications role late last month amid speculation that Trump would tap him for the role.
"If Bill Shine gets the job of White House communications director, that will be good for the country," O'Reilly tweeted June 27. "Shine is smart and honest."
Shine will now join a communications team that has frequently been beset by chaos.
Trump has already had four communications directors: Sean Spicer, Mike Dubke, Anthony Scaramucci and Hicks.
Spicer, Trump's first press secretary, had a combative relationship with the media and resigned after Trump hired Scaramucci.
Dubke held one of the lowest profiles of any Trump administration official and held the top communications position for close to three months in the spring of 2017, but resigned that June amid concerns that he was about to be fired.
Scaramucci held the post for a memorable 10 days until he was fired after making profane comments about fellow Trump officials to the New Yorker.
Hicks was perhaps the steadiest hand at the wheel leading Trump's communications team.
The 29-year-old had been a close confidante of Trump for years, first at the Trump Organization and later as a top aide both during his campaign for president and then in the White House, and was sometimes regarded as the "Trump whisperer" for her rarefied status in his orbit.
But even she found herself plagued by scandal by the end of her tenure, drawing scrutiny both for her role in helping Trump craft a misleading statement about his son's shady meeting with a Russian lawyer during the 2016 campaign and for coordinating the White House's clumsy response to allegations of domestic abuse against staff secretary Rob Porter — with whom she was apparently in a relationship.
She left the administration in March.
Shine is just the latest person affiliated with Fox News to be hired by Trump, who is known to watch the network religiously.
Other former Fox News personalities to find a home in his administration include national security adviser John Bolton, a contributing commentator on the network, and White House director of strategic communications Mercedes Schlapp, who was also a Fox contributor.