Number of migrant children in custody now up to nearly 3,000 despite order to reunify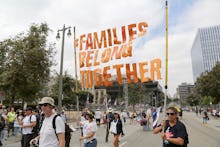 Health and Human Services Secretary Alex Azar told reporters on Thursday that the government currently has just under 3,000 separated immigrant children in its care, backtracking on previous claims that the number was closer to 2,047.
After a preliminary injunction handed down by a federal judge in late June halted President Donald Trump's policy of separating migrant parents and children at the border, the government has scrambled to comply with the court's tight deadlines for reunification. But during a Thursday call with reporters, Azar said that although HHS officials were working "overtime" to vet parents and ensure that the children in the agency's custody end up where they belong, none of the children with family members who are being held in federal custody have actually been reunited to date.
"We have not [placed] children into ICE custody yet, but we will do so with the court's order and supervision," Azar said, according to CNBC.
The preliminary injunction gives the administration until Tuesday to reunite parents and children under age 5, and until July 26 to reunite parents and children age 5 and older.
Even as the Trump administration implemented its zero tolerance crackdown on immigration — which saw immigrant children split up from their parents and transferred to specifically designated shelters and foster care systems run by the Office of Refugee Resettlement — reports emerged that the government was ill-equipped to undo the logistical nightmare it had set into motion.
Although Azar called the court's requirement to reunite the youngest children with their parents by Tuesday "extreme," and an "artificial deadline," he said that his office has every intention of complying with the order.
"We will do as much as possible up to the deadlines set by the court," he told reporters, adding that about 100 children under the age of 5 were set to be reunited by next week. "That deadline was not informed by the process needed to vet parents, including confirming parentage as well as determining the suitability of placement with that parent."
In a Thursday press release, Lee Gelernt, deputy director of the ACLU's Immigrants' Rights Project and the lead lawyer who argued the case against the government, said that Azar's attempt to shift the blame to the court is "incomprehensible given how much time the court gave the government to fix its own mess."
"When the government wants to marshal its resources to separate families, it has shown that it can do it quickly and efficiently, but when told to reunite families, it somehow finds it too difficult and cumbersome to accomplish," Gelernt said.