Mic Daily: EPA head Scott Pruitt resigns, former Fox News exec joins the White House and more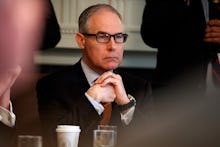 Welcome to Mic Daily: Mic's short, smart email newsletter that cuts through the noise and lands in your inbox every weekday. We carefully curate each edition to send you a cross section of our most impactful, vital, touching stories of the day. Want to receive this as a daily email in your inbox? Subscribe here.
Environmental Protection Agency Administrator Scott Pruitt is the latest high-profile casualty of President Donald Trump's administration, after he resigned his role amid a swirling ethics scandal.
President Donald Trump in 2017 "stunned" top advisers by raising the possibility of invading Venezuela, according to new reports Wednesday.
Health and Human Services Secretary Alex Azar told reporters on Thursday that the government currently has just under 3,000 separated immigrant children in its care, backtracking on previous claims that the number was closer to 2,047.
President Donald Trump on Wednesday announced that Bill Shine, who was ousted from Fox News in a sexual harassment scandal last year, has joined the White House communications team after weeks of speculation.
Actor Kevin Spacey is being investigated for three additional allegations of sexual assault in the United Kingdom, the BBC reported on Tuesday. Spacey was already being investigated by London police in connection with two other allegations of sexual assault and one of assault, according to the BBC. The former House of Cards star is now under investigation for a total of six alleged incidents in the U.K.