Who's Sorry This Week? President Donald Trump, Chelsea Handler and other public apologies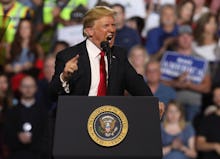 Another week, another deluge of apologies.
In Who's Sorry This Week? Mic tracks down the most prominent mea culpas from celebrities, companies and other public entities trying to make amends for their various screw-ups.
This week had no shortage of apologies, so let's get right to it.
Donald Trump is sorry he called Sen. Elizabeth Warren "Pocahontas," then calls her "Pocahontas" again and mocks the #MeToo movement
At a campaign rally in Montana on Thursday, President Donald Trump apologized, in the loosest and most sarcastic of ways, for his habit of repeatedly calling Sen. Elizabeth Warren "Pocahontas."
"Pocahontas, they always want me to apologize for saying it," Trump said while making fun of Warren, again, for claiming that she is of Native American heritage, per CNN. "Oh, no, I want to apologize. Pocahontas, I apologize to you. To you, I apologize. To the fake Pocahontas, I won't."
Trump went on to say he wanted to administer a DNA test to see whether or not Warren's claims that she's part Native American are actually true, mocking the #MeToo movement — which seeks to empower people to speak up about being victims of sexual assault — in the process.
"But we have to do it gently because we're in the 'Me Too' generation," he said. "So we have to be very gentle."
Trump has been accused by more than a dozen women of sexual misconduct.
YouTube is sorry it keeps letting down its LGBTQ communities
YouTube has been under fire for quite some time now for failing its LGBTQ creators when it comes to monetizing their videos — a process by which users can generate income through ads.
Among the complaints are allegations that videos with LGBTQ content, like the words "trans" or "transgender" in the titles, are automatically flagged and demonetized, even when the videos are family friendly. LGBTQ creators also alleged that their viewers were being served homophobic ads by anti-gay organizations, like Alliance Defending Freedom, according to Polygon.
In a series of tweets posted Saturday, YouTube apologized for repeatedly failing its LGBTQ users.
"We're sorry and we want to do better," YouTube said.
The Bachelorette contestant Chris Randone is sorry he acted "cringeworthy" and "disgusting"
Chris Randone was eliminated from The Bachelorette on Monday's episode, but not before he solidified himself as one of the season's most inflammatory characters.
In one clip from the show, titular bachelorette Becca Kufrin confronts Chris about accusations from the other guys that he's "verbally abusive" and makes other people feel unsafe. Chris characterized these accusations as "fabricated" and "not real."
As a result of Chris' aggressive behavior, Becca decided they wouldn't be a good romantic fit and asked him to leave the show. This led to a very bizarre exchange in which Chris tried to outrun Becca, who insisted on walking him out because he "deserved that respect."
Shortly after the episode aired, Chris posted a picture on Instagram accompanied by a nearly 400-word caption in which he apologized for the way he acted on the show.
"I'm not mad or upset with any hatred that's been thrown at me because it's been a nightmare for me to watch this journey as well," he said. "I finally watched the episodes from the eye of a viewer and I understand why all these negative things were said. Just like you, I could barely watch the latest episodes in full without cringing and I'm truly sorry you had to endure that pain alongside with me. I take full responsibility for my actions on the show. I spiraled down and let my emotions get the best of me."
Chelsea Handler is sorry on behalf of America for President Donald Trump
On July 4, comedian Chelsea Handler tweeted that she was "sorry about our president."
"He doesn't reflect all of our views — and we hope you know that the vast majority of us are ashamed," she said. "We will rally each other and come back to the world one step at a time. #NovemberIsComing #AlsoSorryAboutHotDogs"