What Melania Trump wore her 76th week as first lady — including for the Fourth of July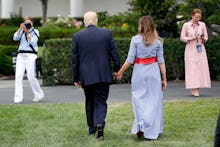 What a week it's been — while much of the country had the day off for the Fourth of July, first lady Melania Trump had the day on. And you better believe she wore red, white and blue on Independence Day (no messages on her clothes, though). Trump was out and about a couple of other times, too.
Here is what she wore this week:
Friday, June 29: Erdam floral pants on the White House lawn
On Friday, Melania Trump and the rest of the first family were spotting preparing to take off in Marine One. Trump wore a white shirt, yellow stilettos and a pair of Erdem floral-print slim pants.
Sunday, July 1: A pink sweater and white pants on the tarmac
Heading back to the White House from New Jersey on Sunday, Trump wore what appeared to be a pink Prada sweater, white pants and white flats — oh, and a pair of her signature oversized shades.
Tuesday, July 3: A navy outfit for a surprise visit
Melania Trump made a previously unannounced visit to Walter Reed National Military Medical Center in Bethesda, Maryland, on Tuesday — the same hospital where she recently underwent kidney surgery. For her pre-holiday visit, Trump wore an all-navy blouse and pant ensemble and black stilettos. While there, she met with some service members (and even tweeted about it).
Wednesday, July 4: A Ralph Lauren dress and an Alexander McQueen belt for the Fourth of July
Trump was decked out in the colors of the flag on Wednesday, when she showed up alongside her husband at a White House picnic for military families held on the South Lawn. The blue and white were courtesy of a checkered Ralph Lauren gingham dress, and the red leather bow belt was Alexander McQueen. She also had on red heels — and she even let her husband hold her hand.
You can read previous recaps of what Melania Trump wore here.