California sanctuary laws challenged by the Trump administration mostly upheld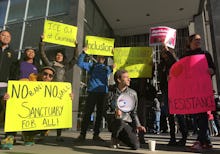 The Trump administration's crusade against so-called "sanctuary cities" was dealt a partial blow Thursday, as a district judge denied the administration's request for a preliminary injunction against some of California's sanctuary laws.
In his ruling, Judge John Mendez of the District Court for the Eastern District of California upheld two of the California laws being challenged, while blocking parts of a third. The Trump administration has contended that the three California laws violate the Supremacy Clause of the U.S. Constitution, which prohibits states from interfering with federal law.
The two laws that were wholly upheld, Assembly Bill 103 and Senate Bill 54, mandate the Attorney General to "review and report on" immigration detention facilities and prohibit the information California law enforcement agencies can give about immigrants in their custody, respectively. Under SB 54, law enforcement cannot use department employees or funds to "investigate, interrogate, detain, detect or arrest persons for immigration enforcement purposes," and cannot provide someone's personal information or release date.
"California has not crossed over into the exclusively federal realm of determining who may enter and remain within the United States," Mendez wrote in his ruling. "SB 54 only governs the activities of the State's own law enforcement agencies. Although Congress clearly intends its immigration laws to exclusively regulate the subject of immigration and the activities of federal immigration enforcement officers, the Court sees no clear indication that Congress intended to displace the States' regulation of their own law enforcement agencies."
Assembly Bill 450, which regulated how employers handled interactions with federal immigration authorities, was partially struck down. Mendez upheld the law's provision requiring employers to inform employees of immigration reviews of employment records within 72 hours of receiving notice of the inspection. The ruling did strike down other provisions of the law, however; one provision would prohibit employers from providing voluntary consent to let immigration authorities enter nonpublic areas or obtain employee records, while the other prohibits reverifying the employment eligibility of current employees when not required by federal law.
The Trump administration brought the lawsuit against California in March, as U.S. Attorney General Jeff Sessions decried California's "irrational, unfair and unconstitutional policies" and vowed "to use every power I have to stop them." California has emerged as a major force in taking on the Trump administration — the Associated Press noted Thursday the state has sued the administration more than 50 times — though some local municipalities in the state have openly opposed the state's sanctuary laws.
Thursday's mixed ruling was celebrated on both sides. In a statement quoted by the AP, the U.S. Department of Justice described the ruling as a "major victory for private employers in California who are no longer prevented from cooperating with legitimate enforcement of our nation's immigration laws," though the Department added it was disappointed the other two laws were "not yet halted."
California Attorney General Xavier Becerra praised the court's "strong ruling against federal government overreach."
"The Constitution gives the people of California, not the Trump Administration, the power to decide how we will provide for our public safety and general welfare," Becerra said in a statement. "California's laws work in concert — not conflict — with federal law." 
State lawmakers and advocacy groups also highlighted how the ruling would affect the state's ability to resist against the Trump administration's family separation policy. Though halted, the policy has left nearly 3,000 children separated from their families in immigration detention facilities, such as those slated for inspection under California's now-upheld AB 103.
State Senator Kevin de León noted Thursday that "California is under no obligation to assist Trump tear families apart," while the California branch of the Service Employees International Union, who sponsored AB 450, said the ruling "send[s] an important message as we see the Trump Administration's callous family separation policy playing out on our news screens and fueling fear in immigrant communities."
"In denying injunctions against California's landmark immigration laws, the court has affirmed California's right to protect its citizens and demand fair immigration enforcement," SEIU California executive board member David Huerta said in a statement.
The California laws now being challenged are part of a broader push at the state and local level to challenge the Trump administration's war on "sanctuary cities," jurisdictions that limit how local law enforcement can cooperate with federal immigration authorities. After Trump issued an executive order barring federal funding to sanctuary cities soon after taking office, jurisdictions such as Chicago, Philadelphia and Santa Clara County, California, challenged the policy in court. Chicago's legal challenge resulted in a nationwide injunction on the policy, though a further court ruling in June limited the injunction to Chicago only.
Other jurisdictions have also signaled their opposition to the Trump administration's policies, as 16 state attorneys general filed a brief in support of Chicago's legal challenge. In January, the Trump administration sent letters to 23 jurisdictions demanding them to certify their compliance with Section 1373, a federal law that requires officials to provide federal immigration authorities with individuals' citizenship and immigration status. The letter prompted mayors from cities across the country to skip out on a January meeting with Trump about infrastructure, while West Palm Beach, Florida, filed a lawsuit accusing the Justice Department of "erroneous and recurring harassment of the city and its officials based upon wrongly perceived noncompliance."
The Trump administration hasn't been letting up in its legal response to these pro-sanctuary jurisdictions. The administration asked the U.S. Supreme Court in June for an emergency order that would allow the administration to withhold federal funds from sanctuary jurisdictions, and AP reported that Department of Justice spokesman Devin O'Malley said the DOJ vowed to "continue to seek out and fight unjust policies that threaten public safety" following Thursday's ruling.
The fight over sanctuary cities is one of many Trump administration policies to play out in the judicial branch, as issues from Trump's travel ban to the ban on transgender Americans serving in the military have been the subject of legal challenges. In his ruling, however, Mendez warned against this politicization of the courtroom, writing that "there is no place for politics in our judicial system."
"If there is going to be a long-term solution to the problems our country faces with respect to immigration policy, it can only come from our legislative and executive branches. It cannot and will not come from piecemeal opinions issued by the judicial branch," Mendez, who was appointed by President George W. Bush, wrote.
"Accordingly, this Court joins the ever-growing chorus of Federal Judges in urging our elected officials to set aside the partisan and polarizing politics dominating the current immigration debate and work in a cooperative and bipartisan fashion toward drafting and passing legislation that addresses this critical political issue," Mendez continued. "Our Nation deserves it. Our Constitution demands it."