Trump mocks #MeToo — unless he can use it against his political opponents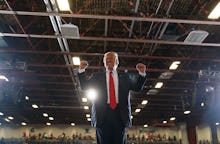 On Thursday, President Donald Trump mocked the #MeToo movement as part of a racially charged joke about Sen. Elizabeth Warren (D-Mass.) while speaking to the crowd at a raucous Montana rally, suggesting that the outpouring of individuals who have held powerful men accountable for sexual misconduct are weak.
Trump, who frequently refers to the Massachusetts Senator as "Pocahontas," said Thursday that if the popular Democrat challenged him in 2020, he would challenge her to take an ancestry test during a debate to prove her Cherokee ancestry, as assertion about her heritage which he has repeatedly challenged.
"We will take that little kit — but we have to do it gently, because we're in the 'Me Too' generation, so we have to be very gentle — and we will very gently take that kit and slowly toss it," Trump told a laughing audience, "hoping it doesn't hit her and injure her arm."
Trump's comments Thursday were likely his most direct ridiculing of the movement over the past months that has brought down powerful figures in the worlds of media, entertainment, politics and beyond.
Trump, who has been accused multiple times of sexual assault himself, has frequently thumbed his nose at credible allegations of sexual misconduct — unless, of course, those allegations are directed at his political opponents.
The president has dismissed or ignored accusations of sexual misconduct and domestic violence against several of his allies, including Roy Moore — the far-right former Alabama senate candidate who was accused of child molestation decades prior, and eventually lost his race as the controversy swallowed his campaign. Moore, who was defeated by Democrat Doug Jones in December, had been accused by multiple women of preying on them when they were teenagers and he was an adult. But Trump believed the ex-judge over his accusers, and continued to give him his full-throated endorsement.
Trump also cast doubt on women who accused former White House staff secretary Rob Porter of domestic violence, tweeting after his dismissal earlier this year that "peoples lives are being shattered and destroyed by a mere allegation."
"There is no recovery for someone falsely accused - life and career are gone," Trump tweeted Feb. 10. "Is there no such thing any longer as Due Process?"
Porter was accused by his two ex-wives of emotional and physical abuse and one of the women provided corroborating photos. The White House faced a maelstrom of criticism over its handling of the allegations, but Trump continued to publicly sympathize with Porter and suggest the women were lying about him. "As you know, he says he's innocent. And I think you have to remember that," Trump said in the Oval Office in February. "He said very strongly that he's innocent, so you'll have to talk to him about that."
Trump has not only given the benefit of the doubt to alleged abusers; he's also publicly backed men accused of enabling cultures of abuse.
During the 2016 campaign, he suggested to a Pittsburgh crowd that Penn State should bring back its statue of disgraced football coach Joe Paterno, who was fired after looking the other way as assistant coach Jerry Sandusky sexually abused young boys for decades. Paterno died in 2012.
"How's Joe Paterno?" Trump said at the time. "We're gonna bring that back? Right?...How 'bout that whole deal?"
More recently, he has defended Rep. Jim Jordan (R-Ohio), one of his strongest allies on Capitol Hill, amid allegations that he turned a blind eye to sexual abuse while a wrestling coach at Ohio State. "I don't believe them at all," Trump told reporters of Jordan's accusers. "I believe him."
The president's jeers at #MeToo also came the same day he announced he'd officially added ousted Fox News executive Bill Shine to his communications team. Shine had been forced to resign from the Trump-friendly network over accusations he'd allowed a culture of sexual harassment to flourish while there.
As Trump has unequivocally defended himself and his allies against accusations of sexual misconduct, he has capitalized on similar allegations against political opponents. During the 2016 campaign, he appeared in a press conference with four women who accused former President Bill Clinton of sexual abuse in an attempt to use them against his Democratic challenger, Hillary Clinton.
"These four very courageous women have asked to be here," Trump said in a Facebook Live broadcast with the accusers, "and it was our honor to help them."
The stunt came as he faced numerous accusations of sexual assault of his own — and as he dealt with the fallout from the release of a now-infamous video from 2005 in which he boasted about being able to sexually assault women because of his status as a celebrity. "When you're a star, they let you do it. You can do anything," Trump told Access Hollywood's Billy Bush. "Grab them by the pussy. You can do anything."
In 2017, when Sen. Al Franken (D-Minn.) faced accusations of sexual misconduct, Trump pounced on the powerful Democrat, saying a photo in which he appeared to be groping or pretending to grope a Los Angeles radio host was "really bad, speaks a thousand words."
Franken resigned from the Senate in December.
But Trump was accused of hypocrisy for criticizing Franken, given he has been accused by at least 17 women of sexual misconduct — including a since-retracted allegation by his ex-wife, Ivana Trump, of rape.
Trump has called those accusations "fake news" and his accusers "horrible, horrible liars."
"It's fake," Trump told reporters last year. "It's made-up stuff, and it's disgraceful, what happens, but that happens in the world of politics."