Trump to face massive protest, his diaper-clad likeness in upcoming UK visit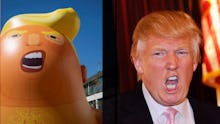 As Donald Trump heads to the United Kingdom for the first time as president next week, an enormous, diaper-clad likeness of him will fly in London for millions to see.
Sadiq Khan, the London mayor who has had a war of words with Trump in the past, has given his stamp of approval to protesters who plan to float a "Trump baby" balloon that depicts the United States president as a giant, screaming orange toddler near Britain's Parliament.
"[Khan's] city operations team have met with the organizers and have given them permission to use Parliament Square Garden as a grounding point for the blimp," a representative for the mayor said in a statement, according to the New York Times.
The 19-foot tall Trump float will be just one part of the protests that are expected to greet the president when he arrives in the United Kingdom for a visit on Thursday. Trump is expected to avoid as much as possible, according to reports.
"It's on everyone who knows the difference between right and wrong to resist this grotesque excuse for a president when he comes here," Leo Murray, one of the organizers behind the "Trump baby" balloon, wrote in a Metro op-ed Thursday. "He needs to be run out of town, figuratively at least."
Trump will make his first official state visit to the U.K. — a three-day jaunt in which he'll meet with Prime Minister Theresa May and Queen Elizabeth II. He had initially been slated to visit the country in late 2017, but postponed the trip over concerns about "large-scale protests."
Delaying the visit doesn't seem to have helped him avoid major demonstrations, though. Tens of thousands of protesters are expected to pour into London to demonstrate against the American president — which has been decried by Trump's British supporters, such as Brexit campaigner Nigel Farage, who tweeted Thursday that the "Trump baby" balloon is "the biggest insult to a sitting U.S. president ever."
In response to the "Trump baby," a counterprotest of sorts has appeared to form, with a group raising money for a separate balloon depicting Khan as a baby as well.
The first Muslim mayor of London, Khan has been critical of Trump's anti-Muslim rhetoric and publicly supported Hillary Clinton in 2016. In response, Trump has accused him of being unintelligent and bashed him on Twitter in the aftermath of a terrorist attack in London, falsely accusing the mayor of downplaying the attack in the city.
"He has more important things to do than respond to Donald Trump's ill-informed tweet that deliberately takes out of context his remarks urging Londoners not to be alarmed when they saw more police — including armed officers — on the streets," a spokesperson for Khan replied.
Khan at the time also called on May to cancel Trump's planned state visit.
"I don't think we should roll out the red carpet to the president of the USA in the circumstances where his policies go against everything we stand for," Khan said. "When you have a special relationship it is no different from when you have got a close mate. You stand with them in times of adversity but you call them out when they are wrong. There are many things about which Donald Trump is wrong."
The demonstrators will fly the massive "Trump baby" balloon on the Friday of Trump's visit from 9:30 a.m. to 11:30 a.m. local time, during an anti-Trump protest in central London. As of Friday afternoon, a crowdfunding page to help organizers "make our six meter high orange, inflatable baby with a malevolent face and tiny hands fly over central London during Trump's U.K. visit" had raised more than 23,000 pounds.
"To really get through to Trump, you have to get down on his level and talk to him in a language he understands: personal insults," Murray wrote in his op-ed. "That's why my friends and I have made a six-meter-high, orange, inflatable baby with tiny hands and a malevolent, constipated expression on his face, which we intend to fly over Parliament during the president's visit on July 13th."
"Ridiculing tyrants and despots is a proud British tradition, so we can think of this as the whistling 'Hitler has only got one ball' of our times," Murray continued. "If this generation is going to have to fight fascism again, we may as well have a bit of a laugh while we are doing it."