The Louvre is now offering a Jay-Z and Beyoncé-themed museum tour dedicated to "Apeshit"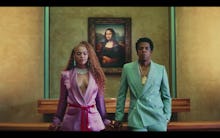 The Louvre wants you to go apeshit for art history — but please, keep your hands to yourself.
In May, Beyoncé and Jay-Z filmed the music video for "Apeshit" — off of their collaborative album Everything is Love — at the Louvre, the iconic art museum in Paris with a pyramid-shaped entrance. Now, on the Louvre's website, alongside guided tours dedicated to the Italian Renaissance or Greek sculpture, visitors can also find information on its new Jay-Z and Beyoncé-themed tour. Along the way, museum-goers will visit over a dozen locations featured in the video for "Apeshit."
Yes, please. Or, should we say, "Oui, s'il vous plaît."
One of the first stops on the tour is the Winged Victory of Samothrace, the winged (and headless) Greek statue behind Beyoncé when she's thrashing around in her bedsheets.
A few stops later, you'll see The Coronation of Napoleon, meant to immortalize the coronation of Napoleon I in 1804. But, um, unless you have some serious cash to rent out the Louvre like Beyoncé, you probably won't be able to re-enact her choreography without elbowing a tourist in the face.
The tour ends with Portrait of a Black Woman, which appears at the very end of the video, before Beyoncé and Jay-Z stare silently at the Mona Lisa.
Though we'd love to credit Beyoncé with turning the entire museum world on its head, the Louvre actually offers several pop culture-inspired "visitor trails," including one for rapper will.i.am and another dedicated to The Da Vinci Code.
I think I'm all set on those other two, though.