Prosecutors have suddenly moved to drop cases against remaining #J20 defendants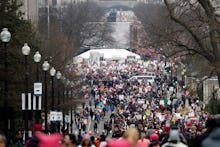 Federal prosecutors in Washington, D.C., on Friday suddenly moved to dismiss criminal charges against 38 people who had been awaiting trial in connection to a string of Inauguration Day protests.
The defendants, known collectively as the #J20, had been swept up in a massive police dragnet after protestors set fire to the capital and vandalized storefronts in response to President Donald Trump being sworn in as president in 2017.
A total of 234 people were eventually arrested and charged with rioting in connection to the violence. Of those, 21 entered guilty pleas before trials began, with one person pleading guilty to felony charges. However, for the more than 200 defendants that remained, attorneys and activists had argued that the prosecution was mounting an aggressive and concerning offensive against what amounted to peaceful demonstrations.
In a statement on Friday announcing that the dropping of charges, prosecutors conceded that the conduct of the remaining defendants had been in "sharp contrast," to that of the individuals who had pleaded guilty to criminal charges.
"The U.S. Attorney's Office for the District of Columbia believes that the evidence shows that a riot occurred on January 20, 2017, during which more than $100,000 in damage was caused to numerous public and private properties," the statement read. "The destruction that occurred during these criminal acts was in sharp contrast to the peaceful demonstrations and gatherings that took place over the Inauguration weekend in the District of Columbia, and created a danger for all who were nearby."
The announcement came after a series of lumbering court proceedings that saw the first six defendants acquitted at trial, followed by the prosecution deciding to forgo charges against more than 150 others.
On Friday, the remaining 38 defendants had their cases dismissed, in large part due to the prosecution's inability to convince juries that the individuals in question had indeed committed the acts of vandalism they stood accused of.