Mic Daily: The government struggles to reunite families, Trump mocks #MeToo and more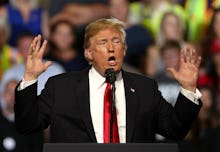 Welcome to Mic Daily: Mic's email newsletter that cuts through the noise and lands in your inbox every weekday. We carefully curate each edition to send you a cross section of our most vital stories of the day. Want to receive this as a daily email in your inbox? Subscribe here.
Despite assurances from Health and Human Services Secretary Alex Azar during a Thursday call with reporters that the government was complying with its first court-mandated deadline for reuniting families, court records submitted later that evening show that officials are formally requesting more time in instances where it's proving difficult to link children to their parents, according to the Washington Post.
On Thursday, President Donald Trump mocked the #MeToo movement as part of a racially charged joke about Sen. Elizabeth Warren (D-Mass.) while speaking to the crowd at a raucous Montana rally, suggesting that the outpouring of individuals who have held powerful men accountable for sexual misconduct are weak.
Throngs of burger seekers and curious diners continue to hum through the Spotted Pig's vestibule, even though its co-owner, Ken Friedman, has been accused of sexual harassment by multiple former employees.
One wonders: Are they none the wiser, or do they simply not care?
On Saturday, Wanna Thompson, a Toronto-based writer and creator of Wanna's World blog, said she received two hateful, vulgar direct messages on Twitter. They weren't from some random user or passerby — though lately she's received plenty of toxic messages from total strangers as well.
No, these messages came from none other than rap queen Nicki Minaj. They were sent in response to a tweet Thompson sent out criticizing Minaj's music.
Though it's not easy viewing, Whitney is undoubtedly worth watching. Even so, this sort of pain is not entertaining — prepare yourself accordingly. This film is both anger-inducing and utterly depressing.