GOP congressman and Trump ally further scrutinized in Ohio State abuse scandal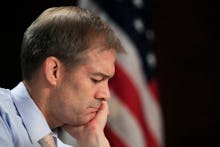 Rep. Jim Jordan (R-Ohio) — who has helped lead the Republican offensive against Robert Mueller and the Russia probe — is continuing to deny allegations that he turned a blind eye to sexual abuse as a wrestling coach at Ohio State University, claiming the accusations are part of a "deep state" effort to bring him down.
But he also appeared Friday to hedge on his stance that he didn't know about the alleged sexual abuse, suggesting to Fox News that he may, in fact, have been aware of the wrestlers' accusations against team physician Richard Strauss but did not take them seriously.
"Conversations in a locker room are a lot different than allegations of abuse or reported abuse to us," Jordan told Brett Baier on Special Report Friday.
The firebrand Republican did not further explain what he meant by the remark — and Baier did not press him on it.
But his seeming dismissal of what wrestlers may have told him "in a locker room" opened the Trump loyalist up to further criticism — and invited even more scrutiny to his story that had no knowledge of the alleged abuse by Strauss.
Ohio State has been investigating the allegations against Strauss, who died in 2005, since April of this year.
At least five former wrestlers this month have accused Jordan, an assistant coach at the school from 1987 to 1995, of being aware of the allegations but doing nothing about them.
"There's no way unless he's got dementia or something that he's got no recollection of what was going on at Ohio State," former UFC world champion Mark Coleman told the Wall Street Journal. "I have nothing but respect for this man, I love this man, but he knew as far as I'm concerned."
Former wrestlers at the school say that Strauss regularly touched them inappropriately during appointments and leered at them while they were nude, sometimes showering with the athletes.
Several former wrestlers say that they reported the alleged abuse directly to Jordan, but that he turned a blind eye.
"If Jordan says he didn't know about it then he's lying," former wrestler Dunyasha Yetts told WSJ.
Jordan, who has served in the the United States House of Representatives since 2007, is one of the chamber's staunchest conservatives and has been an "enthusiastic" Trump ally since at least May 2016.
He has emerged as one of the president's most prominent attack dogs on Capitol Hill as the special counsel continues to investigate Trump over his campaign's ties to Russia, as well as potential obstruction of justice.
He has repeatedly accused Mueller and his team of bias, and directly called on deputy attorney general Rod Rosenstein to kill the probe.
His confrontations with federal law enforcement officials over the Russia probe in hearings has raised his stature on Capitol Hill and he has been considering running to replace Rep. Paul Ryan (R-Wisc.) as House Speaker. Sean Hannity, the Fox News pundit and a close confidante of the president, has endorsed Jordan for the role.
The allegations that he ignored sexual abuse at Ohio State could throw a wrench into those plans, though.
The far-right House Freedom Caucus — which Jordan helped form in 2015 — has been urged by its leadership to throw its support behind the embattled Ohio lawmaker.
Trump — who has frequently cast doubt on allegations of sexual and domestic abuse against himself and his allies — has also stood by Jordan.
"I don't believe them at all," Trump told reporters about Jordan's accusers recently. "I believe him."
Jordan himself has pushed back against the allegations made by former wrestlers like Mike DiSabato, who Jordan accused of lying. He has also suggested the accusations are political in nature, observing that the allegations emerged shortly after a high-profile clash with Rosenstein during a House hearing.
He didn't know about the alleged abuse, Jordan told Fox News on Friday, and would have done something if he had.
"We would've dealt with it," Jordan said. "A good coach puts the interests of his student-athletes first."