North Korea says US position on denuclearization "regrettable" after Pompeo talks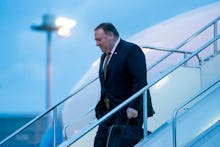 North Korea said Saturday that talks with Secretary of State Mike Pompeo "amplified ... the distrust and war risk" between the two countries — a warning that comes just weeks after President Donald Trump claimed that "there is no longer a nuclear threat from North Korea."
North Korea's characterization of the discussions as "regrettable" is at odds with that of Pompeo, who said before leaving Pyongyang Saturday that the two sides had made "a great deal of progress."
"We had many hours of productive conversations," Pompeo told reporters. "These are complicated issues, but we've made progress on almost all the central issues."
The criticism from North Korea's foreign ministry suggests Washington and Pyongyang are not on the same page when it comes to denuclearization — and raises further questions about what, if any, substance came out of the June 12 Singapore summit between Trump and Kim Jong Un.
At that meeting, Trump lavished praise on Kim and agreed to suspend America's joint military exercises with South Korea in the region. Kim did not appear to make any concrete concessions to the U.S., instead agreeing to a vague promise to "work toward complete denuclearization of the Korean Peninsula."
Pompeo headed to Pyonyang on Friday for the third time this year, "seeking to fill in some details on those commitments and continue the momentum toward implementation of what the two leaders promised each other and the world," he said in a statement.
But while Pompeo painted the bilateral talks as a success, the Kim regime was sharply critical, calling the meeting "worrisome" and saying concrete demands from the U.S. regarding denuclearization represented a return to the "cancerous" posture of previous administrations.
The statement from Pyongyang Saturday raises significant questions about North Korea's commitment to denuclearize — something Trump suggested was a done deal.
On the contrary, North Korea does not yet appear to have dismantled the nuclear test site Trump implied they were already "destroying" and appears to be ramping up one of its nuclear production facilities in the wake of the meeting. Additionally, Kim does not appear to have returned the troop remains that Trump said the U.S. already "got."
But Pompeo said Saturday that North Korea remained "equally committed" to denuclearization.
"Some places, [we've made] a great deal of progress," Pompeo said. "Other places, there's still more work to be done."