Trump team demands proof from Mueller investigation in latest attempt to sway public opinion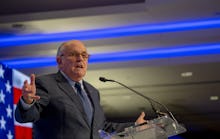 President Donald Trump may soon sit for an interview with special counsel Robert Mueller — but only if Mueller can provide a "factual basis" for suggesting the president did something wrong.
Trump lawyer Rudy Giuliani said Sunday in interviews on CNN and ABC that the president's legal team is requiring evidence that indicates a possible crime on Trump's part before before agreeing to an interview with Mueller.
"We've been through everything on collusion and obstruction. We can't find an incriminating anything and we need a basis for this investigation," Giuliani said on ABC's This Week.
Giuliani's comments echo statements he made Friday to the New York Times in which he said the president's team would discuss an interview if the Mueller investigation "show[s] us the basis and that it's legitimate and that they have uncovered something."
"I should correct it, I didn't say they have to prove a crime," Giuliani clarified Sunday on CNN's State of the Union. "What I said was they have to give us a factual basis, meaning some suspicion of a crime. For example, I can't initiate an investigation of my neighbor just because I don't like him. Just because he's politically different than me. Which is really what happened here."
Both CNN's Dana Bash and ABC's George Stephanopoulos pushed back against Giuliani's comments. Bash noted the investigation began even before Mueller's appointment, based on tips the FBI and Department of Justice received about Trump campaign associates; Stephanopoulos pointed to former FBI Director James Comey's testimony, which suggested the president attempted to obstruct an investigation into former national security adviser Michael Flynn.
Giuliani claimed on ABC that Comey's testimony was "hardly worth anything" because Trump had a right to fire him. The lawyer also pushed back against charges of obstruction of justice by claiming the obstruction statute "says you actually have to obstruct, [and] there's no obstruction here."
Giuliani also repeated previous assertions that the Mueller investigation is biased.
"Now how you can say [the Mueller probe is] a legitimate investigation, well then there are no illegitimate investigations," Giuliani claimed on CNN. "The reality is there is no evidence of wrongdoing by the president, no evidence of collusion. People can have some evidence of Russian this, Russian that, but not a single bit of evidence."
Giuliani's comments mark the Trump team's latest attack on the Mueller probe. The New York Times noted Friday that Trump has tweeted about a "witch hunt" 59 times since March alone, compared to 20 times in all of 2017.
According to the Times, the attacks are part of a broader attempt to discredit the Mueller investigation — which has so far resulted in 75 charges and more than 20 indictments — as well as sway public opinion against the investigation to dissuade a potential attempt to impeach the president.
"Nobody is going to consider impeachment if public opinion has concluded this is an unfair investigation, and that's why public opinion is so important," Giuliani told the Times on Friday.