Hype Daily: Justin Bieber's engaged, HBO's plans and more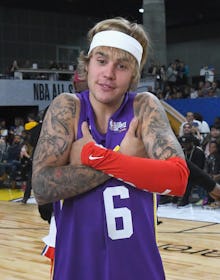 Welcome to Hype Daily, Mic's morning entertainment roundup. Here's everything you need to catch up on in the entertainment world and what to look forward to today. Want to receive this as a daily email in your inbox? Subscribe here.
Good morning from Hype reporter Anna Swartz.
Justin Bieber and Hailey Baldwin are apparently engaged
Move out of the way Ariana Grande and Pete Davidson, there's a new celebrity couple rushing to the altar. Over the weekend, news broke that former tween heartthrob Justin Bieber, 24, and model Hailey Baldwin, 21, got engaged on a trip together in the Bahamas. The two dated back in 2016 and broke up — but recently they've been spotted together in various locales.
Excited social media posts from Bieber's parents seemed to support the rumors that he and Baldwin had just gotten engaged, and a "source close to the singer" confirmed the news to CNN Monday. Congrats lovebirds! Oh and, by the way, Bieber and Grande have the same manager, Scooter Braun — cue the engagement conspiracy theories.
HBO wants to be more like Netflix, apparently
Now onto a different kind of engagement. The New York Times reported Sunday on a recent town hall for HBO employees, during which leadership seemed to indicate that the premium cable channel had plans to grow and change — in what seems like a move to emulate streaming services like Netflix. The changes come following AT&T's acquisition of Time Warner, HBO's parent company.
In one particularly buzzy quote from the Times story, John Stankey, the new chief executive of Warner Media, said, "I want more hours of engagement. Why are more hours of engagement important? Because you get more data and information about a customer that then allows you to do things like monetize through alternate models of advertising as well as subscriptions, which I think is very important to play in tomorrow's world."
This news didn't sit well with critics on Twitter. Times TV critic James Poniewozik tweeted, "This piece really is infuriating. So HBO should stop doing what it does well to be a weak Netflix imitator because some numbskull has size envy. This will be bad art and bad business." And Rolling Stone TV critic Alan Sepinwall tweeted, "HBO is not Netflix. HBO should not try to be Netflix. HBO is going to try to be Netflix. Sigh."
Now we know what Sacha Baron Cohen was up to
Comedian Sacha Baron Cohen (you know ... Borat) tweeted a cryptic message to President Donald Trump last week that seemed to be teasing a new project. Well, now we know what that was about ... sort of. Vulture reported Sunday that Cohen's new Showtime series appears to be titled Who Is America?, according to posters that showed up around Brooklyn.
The show premieres July 15, and we still don't know much about the character, or characters, that Cohen will play — just that the theme seems as though it will focus on American politics. Very nice!
Katharine McPhee doesn't care what you think
OK, just one more engagement story, I promise. Actress, singer and former American Idol contestant Katharine McPhee is newly engaged to producer and songwriter David Foster. The two have a bit of an age difference — she's 34 and he's 68 — but, as McPhee made clear on Twitter Friday, she doesn't care to hear anyone's opinion about her relationship. "Y'all should be worrying more about registering to vote and midterm elections than who's marrying me," she wrote. "Thank you for coming to my TED talk."
Put this on your radar: Captain Marvel
Captain Marvel might not be coming out until 2019, but still, put this on your radar. Brie Larson, who will star in Marvel's first female-led hero movie, tweeted a photo Sunday to celebrate the end of filming — it just showed a clapperboard and a calendar that had July 6 as the "last day." So far there are scant details about the plot of the film — this is a Marvel blockbuster we're talking about, after all — but stay tuned in the coming months.