Republican Jim Jordan faces ethics probe amid Ohio State's sexual abuse scandal. Can he survive?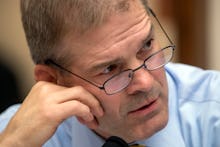 At a pivotal moment in his career, Rep. Jim Jordan has become embroiled in Ohio State University's sexual abuse scandal, accused of having knowledge about the alleged sexual abuse of wrestling team members while he was the assistant coach of the school's team.
While Jordan is not accused of engaging in the abusive behavior, and no players blame him for the abuse, they said he knew about what was going on and didn't report it. The accusation has now brought about now an ethics investigation into the congressman. Jordan denies knowing about the abuse.
"No one ever reported any abuse to me," he told Fox News' Bret Baier on Friday. "I would have dealt with it."
Yet the scandal threatens Jordan's career at a key moment, as he's being floated as a possible successor to retiring Speaker Paul Ryan.
Jordan is a polarizing figure in the House. First elected in 2006, the congressman is a founding member of the House Freedom Caucus — a rabble-rousing group of far-right Republicans who have frequently been a thorn in the side of GOP leadership. Jordan was also the chair of the Republican Study Committee — a socially conservative group of Republican legislators — after the 2010 GOP wave.
After former Speaker John Boehner retired, he had some harsh words about Jordan's role in the HFC's efforts to scuttle legislation.
"Jordan was a terrorist as a legislator going back to his days in the Ohio House and Senate," Boehner told Politico in October. "A terrorist. A legislative terrorist."
Yet Jordan also has defenders among the Republican ranks — including President Donald Trump.
"I believe him," President Donald Trump said of the congressman aboard Air Force One on the way to a rally in Montana on Thursday. "Jim Jordan is one of the most outstanding people I've met since I've been in Washington. I believe him 100%. No question in my mind. I believe Jim Jordan 100%. He's an outstanding man."
Rep. Mark Meadows (R-N.C.), current chair of the HFC, called on Republicans to stand by Jordan.
"I have always known Jim Jordan to be a man of the utmost character, honor and integrity," Meadows told CNN. "As the independent investigation is concluded, I'm confident people will learn the truth and it will confirm all he has said about the situation. I'm proud to stand by Jim Jordan and support him 100% and call on all of my colleagues to do the same."
Rep. Thomas Massie (R-Ky.), another conservative agitator in the House, also defended Jordan.
"I support Jim Jordan," Massie tweeted on Sunday. "He has tremendous integrity. I have faith in the American people and I believe most recognize a baseless smear campaign [when] they see it. And no, I'm not even a member of the Freedom Caucus."
Nevertheless, in the #MeToo era, having allegations of ignoring rampant sexual abuse and harassment could be a liability for Jordan in a speaker's race. The House speaker is one of the most powerful politicians in the country, and is third in line to the presidency. Having a speaker marred by a sexual abuse scandal could be problematic for the GOP.
Ryan hasn't called on Jordan to resign or step aside, saying instead that he is awaiting an investigation from the Ohio State University before he comments on Jordan's future. Ryan did, however, call the allegations "serious" in a statement to USA Today.